PEOPLE Wants to Know: Does Your Baby Look Like a Celebrity Kid?
Does your baby look like one of the celebrity kids pictured below? Send us a photo and your child could appear in People and on PEOPLE.com! Click below for all the details on how to enter.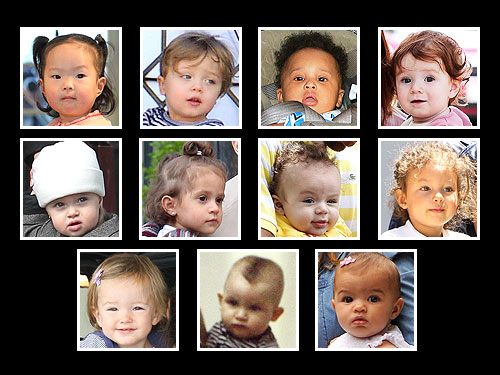 Naleigh Kelley, Knox Jolie-Pitt, David Otunga, Satyana Denisof, Vivienne Jolie-Pitt, Emme Muñiz, Hank Baskett IV, Nahla Aubry, Seraphina Affleck, Sparrow Madden and Vida McConaughey
RELATED GALLERY: Click here to see our 2009 winners!
Please submit the following to babylookalike@gmail.com:
Note the celebrity baby you think your child resembles in the subject line of your email
Send a quality photo of your child with their face clearly visible
Include your child's first and last name, birthdate and the city/state you live in
Paste in this sentence, followed by your first and last name: "This child is my daughter/son. PEOPLE.com and People have my permission to publish this photo."
All entries must be received by Monday, August 2.
Please note: The child you enter must be your own and must be a lookalike for one of the celebrity babies featured in the posted photo. Entries must include all information requested above; those that do not will not be considered. Winners will be notified by email the first week of August. Thanks for entering and good luck!