Crystal Bowersox: Balancing Motherhood and Music Is Hard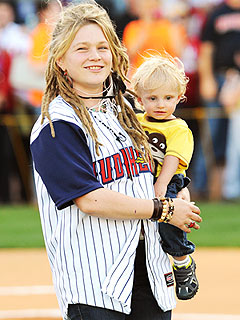 Winslow/Massie/Splash News Online
American Idol runner-up Crystal Bowersox has seemingly mastered motherhood by day, musician by night, but now that she's heading out on tour, the singer is preparing herself for a new routine — without her 17-month-old son Tony by her side.
"People don't realize that before Idol, I gigged a lot. I used to play four one-hour shows a night, five nights a week in Chicago and Ohio," Bowersox, 24, tells PARADE.
"But on the Idol tour, I'm just doing four songs a show. The traveling is going to be the hard part. Also, the fact that my son's not coming with me."

Fortunately, Bowersox's family has stepped up to the plate when it comes to caring for her toddler while she's away.
"My son will be with family and friends. No matter where he is, he'll be well taken care of and loved," she insists.
"And his Mama's gonna miss the crap out of him! But I'll get to see him for little bits here and there."
And although, at times, they'll be hundreds of miles apart, thanks to modern-day technology, the mother-son pair will always be in contact!
"I just discovered Skype! So, he and I will definitely be Skyping!" Bowersox reveals. "Tony is getting the hang of how to use the phone. He can't have a full conversation yet, but he knows it's Mama."
As for Tony following in her footsteps, Bowersox admits she wouldn't be against the idea of her son joining her in the music industry. After all, she notes, he has been hearing music since the womb.
"I played gigs up until he was born. I had to put my guitar off to the side a little bit because my belly was too big to have my guitar hanging in front of me," she says, adding that the music world is all Tony — whose favorite toys include a keyboard and baby bongos — knows.
"Besides, music is good for cognitive development. Tony's advanced — I think that every mom says that about their kids. But, really, Tony's a very social little guy. He says 'hi' to everyone he meets."
— Anya Leon