Mini Must-Have: Oscar and Ava Jackman's Cool Shoes!
Talk about a double dose of Jackman cute!
On May 28, we spotted Oscar, 10, out and about in New York City with dad Hugh Jackman. A week later, we caught a glimpse younger sister Ava, 5 this week, tooling around on her scooter.
But their adorable faces weren't the only thing we noticed. Both were rocking some fab footwear.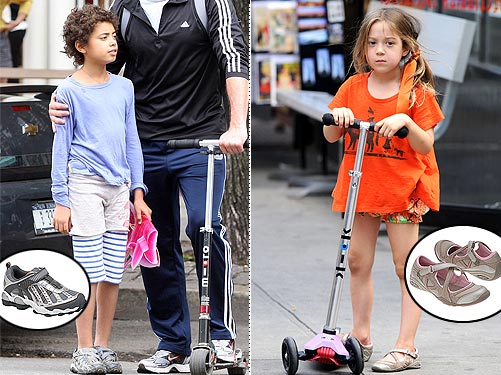 Flynet
Turns out their shoes are from the super kid-friendly brand, Stride Rite. Oscar's are the rugged Superball V A/C sneaks ($50), which provide tons of heel support, while girl on-the-go Ava wore the pink and gold TT Sydney ballet-style slip-ons ($51).
— Anya Leon