Sheryl Crow on Adoption: 'Things Always Work Out Perfectly'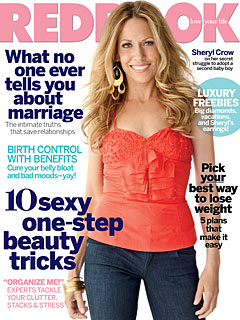 Courtesy Redbook
It's summertime, and for rockin' mom Sheryl Crow, the living is busy!
In addition to her growing family – Crow recently announced the adoption of 9-week-old Levi James, a new brother for her elder son, 3-year-old Wyatt Steven – the Grammy-winning singer and breast cancer survivor is on tour with her latest album, 100 Miles From Memphis.
Despite her busy schedule, Crow, who appears on the August cover of Redbook, says motherhood is a top priority in her life. It's a clarity she gained after treatment for breast cancer, which she was diagnosed with in early 2006.
Crow, 48, says she felt "an acute sense of urgency about how I wanted my life to feel," so she started preparing to be an adoptive mother — taking part in a home study, filling out paperwork and learning infant CPR. "The idea was, if the opportunity came, I would be ready," she explains.

After welcoming Wyatt in April 2007, Crow had planned to adopt another child when he was around age two. But it was a longer process than expected: "A lot of the adoptions fell through," she reveals.
Still, Crow couldn't be happier with how everything turned out. "Things always work out perfectly," she says. "They just do. Generally, when you let go of your vision of how something is supposed to be, the universe hands you exactly what you need."
With her hands as full as they are these days, Crow turns to her circle of celebrity mommy pals, including Nicole Kidman and Kimberly Williams-Paisley. Crow says her friends have "been a wonderful resource for me. We get together at each other's homes, make dinner, and have girls' nights in. Or we'll go out for dinner and a drink — though we're mommies, so we don't let it all hang out."
Nourishing friendships is one way Crow is taking better care of her emotional needs, a realization she credits to her experience with breast cancer.
"It's great to be a strong woman, but when you're never allowing your needs to be met, or even heard, it catches up to you."
— Blane Bachelor