Review: Líllébaby EveryWear Style Carrier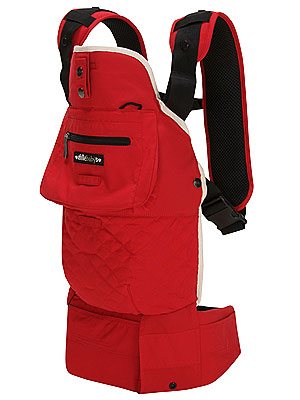 Courtesy of Lillebaby
Looking for a baby carrier that can do it all?
Check out líllébaby's new EveryWear Style Carrier ($100).
Not only does it feature five different carry positions, it sports newly designed shoulder straps and buckles, an organic bamboo hood, an infant head support and a infant-safety harness.
Available in red, black and chocolate brown, it's also crafted from quilted microfiber fabric that's water and wind repellent.
Things We Like: We love that it can be worn with children from 7 lbs. up to 43 lbs. and has five ergonomic carrying positions — infant cradle, face in, face forward, hip and back.
Plus, it comes with two front pockets — perfect for stashing keys or mobile phones — and a zippered pocket big enough for a few diapers and wipes.
The hip carry is easy to configure, which is a big plus. And weight is distributed on your hips and shoulders, not on your lower back, making it comfortable to wear for long periods of time.
Things We Didn't Like: It was too bulky to stash in regular size diaper bag.
Moms & Babies Rating: The versatility and ease of use makes this carrier a winner! It's also easy to adjust for use between two parents (with varying heights and sizes).
— Nancy Horn