Robin Thicke 'Inseparable' From Son Julian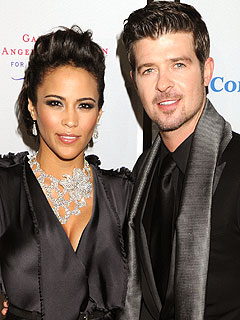 Demis Maryannakis/Splash News Online
Striking a balance between discipline and unconditional love "is the key to fatherhood," recent first-time dad Robin Thicke tells Vibe.
"I plan to pass lessons down to him with love," the singer explains of son Julian Fuego, 3 months. "I just want him to be confident and never stop believing in himself."
Like father, like son! Thicke says that his own dad — Growing Pains star Alan Thicke — laid the foundation for his hands-on approach to raising a child.
"I'm really loving, like my dad," he reveals. "He likes to hold babies and talk to them and hold them different ways and he showed me a couple of new ways of playing with and holding my son."

The "Lost Without U" singer has been happy to put those tips to good use, for he and baby boy are "inseparable" —  and Thicke says he wouldn't have it any other way. "I took all this time off so I have yet to find out what being away from him for a long time feels like," he notes.
"He's my little prince [so] I gotta take over the world in 18 years so I can leave it to him," he adds.
Admitting that he's "been wanting to be a dad for a while," Thicke, 33, says that the bond between him and wife Paula Patton is stronger than ever.
"It feels like a family," he shares. "Once you leave the house as a teenager you don't really feel what it's like to have a family because you're always with friends so it feels good to feel that sense of family again."