Candace Cameron Bure Proud to Be an 'Overly Protective' Mom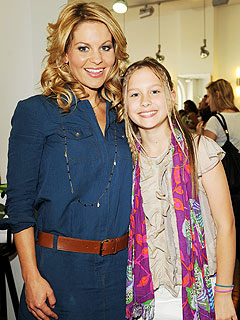 Vince Flores/AFF-USA
Acclimating to first-time motherhood in Canada — where husband Valeri Bure was a hockey star for the Calgary Flames from 1998 to 2001– turned out to be a blessing in disguise for Candace Cameron Bure.
"Some days I was itching to get back to L.A. just to have more movement and action," she tells Parents Canada, "and at the same time, it was wonderful because I had two brand new little babies and the slower pace was actually a really nice lifestyle as I entered into parenthood."
Life has sped up considerably since then, of course, and Cameron Bure says she has already talked about sex with daughter Natasha, 11, and son Lev, 10.
"We had separate discussions with them on just the basics because I wanted to make sure we were the first ones that talked to them about it and that they weren't learning it from friends or school or television or movies," she explains.
"They know it and they get it," Cameron Bure, 34, explains. "So, now I am just very careful about what they watch on TV."

She's also keeping a close eye on the family computer.
Natasha doesn't have a Facebook or Twitter account, and Cameron Bure says it will stay that way for the foreseeable future. "This was the first year we allowed her to have an email address and that's because her school is very progressive with computers and doing work online," the Make It or Break It star — also mom to 8-year-old Maksim — explains.
"I am so overly protective when it comes to technology because there are so many dangers associated with it," she continues.
Cell phones also remain off-limits in the Bure home, with Natasha asking for one "almost everyday," the former Full House star shares. "[Natasha says] 'But mom, I'm the only one left in school that doesn't have my own cell phone,'" Cameron Bure relays. "I'm like, 'Great! Good for all of them.'"
Refusing to bow to the pressure, Cameron Bure adds, "it doesn't convince me to give her a cell phone."