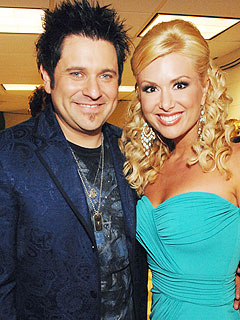 Rick Diamond/WireImage
Come January, Rascal Flatts bassist Jay DeMarcus's house will get little louder — and he can't wait.
"I'm looking forward to hearing the pitter-patter of little feet around the house and all of that wonderful stuff," DeMarcus tells PEOPLE after sharing the news that he and wife Allison — a presenter on CMT and a former Miss Tennessee — are expecting their first child.
"I'm most looking forward to making wonderful memories — the first days of school, summertime with them, taking them to Disney World. I'm ready to be a father!"
The couple tried for a baby for a couple of years before success and DeMarcus says it makes the happy news "a little sweeter. I feel like we have a victory because of it."
"When we stopped trying to plan it out and stopped worrying about it, it happened very naturally."

While they don't yet know the sex of the baby, the couple has already started decorating a nursery. "I just want a healthy baby, so it doesn't matter if it's a boy or a girl," says DeMarcus. "But I would like to have a little boy if I had a say in it! I'd teach him how to play bass and piano and sing!"
DeMarcus, who's heading out on vacation Wednesday to pamper Allison with "all the spa treatments she wants," shared the good news with bandmates Gary LeVox and Joe Don Rooney — both of whom are already dads — on the plane Tuesday as they were returning from a show in Minneapolis. The trio toasted the announcement with a bottle of champagne.
"Gary told me to hold on cause you're in for the ride of your life," he says. "I'm ready for the challenge."
– Eileen Finan