Kourtney Kardashian's Blog: Getting My Son to Sleep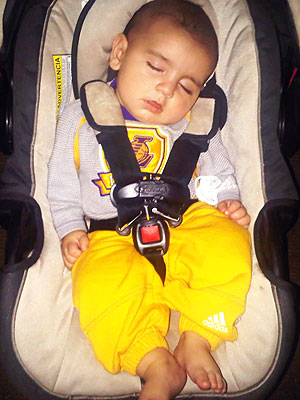 Courtesy Kourtney Kardashian
Our newest celebrity blogger Kourtney Kardashian has told us all about traveling with her son Mason, 6 months, as well as breastfeeding him.
Now she's tackling the age-old sleep debate: Should her son sleep in a crib or in bed with Mom and Dad?
See more of the reality star, 31, and boyfriend Scott Disick on E!'s Keeping Up with the Kardashians and Kourtney and Khloé Take Miami, which recently premiered its second season.
Click below for Kourtney's latest blog!

When Mason first came home from the hospital, he slept in a bassinet right next to my bed. I remember those early days when he was often up all night and asleep all day. Scott and I would take turns staying up with him, singing to him, rocking him, doing anything and everything to get the little angel to sleep.
I was told that Mason would eventually switch around on his own — so he'd be awake during the day and sleeping at night — which he finally did.
When I was pregnant, a few of my friends told me that their babies slept in bed with them. I remember thinking how crazy that was. Then I started reading up on it and decided it was something I actually wanted to try.
I know that having Mason sleep in my bed might be a controversial topic. But I have to be honest: I just love that time. I especially love how when you sleep with your baby, you breathe together on the same pattern. I've been able to bond with Mason so much more. Even if I've had a busy day, I always look forward to every night and us spending time together when we sleep.
Mason still sleeps in the bed right now. We take all the pillows off the bed to make it as safe as we can. I try to have him take naps in his crib if we're home. When we're on the go, he naps in his car seat and he loves that.
I really have mixed feelings about the whole topic. Some people say co-sleeping for the first two years is good, but now people are telling me the longer he sleeps in the bed with us, the harder it will be to get him to sleep on his own down the line. Of course, ultimately I want what is best for Mason, so I'm really battling with it right now.
Do you allow your baby in bed or keep your little one in a crib? Tell me your thoughts!
— Kourtney Kardashian