Kelly Ripa Tries to Tell Her Teenage Son That She's Cool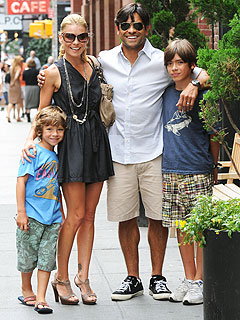 Hector Vallenilla/Pacific Coast News
Kelly Ripa and Mark Consuelos might have their love life in order, but when it comes to raising their teenage son, they need all the help they can get.
"I read all of these books on teenagers, and they tell you all these things that are going to happen, and it all happened," Ripa, 39, told PEOPLE at Monday night's 10th Annual Trevor Project New York Summer Gala, benefiting gay youth crisis prevention.
"They become surly. They lock themselves in their room. Everything [the parents] do is embarrassing."
She adds with a laugh: "I keep telling him, 'As far as parents go, we're the bomb! The coolest parents ever!' "

Michael just turned 13 at the beginning of June. But Consuelos says, "I feel like he's been a teenager for the past year already." For one thing, he's thrilled about getting away for his second summer of sleep-away camp – and this time, his parents are feeling better about the separation, too.
"Last year, we were literally pacing the house, calling the camp after 12 hours, asking, 'Why hasn't he called us? We haven't seen any pictures of him online yet!'" says Consuelos. "We were freaking out. This year we're way more relaxed."
And in fact, they're quickly coming around to the idea of sending the younger kids – Lola, 9, and Joaquin, 7 – off to camp themselves.
"The other two wanted to go with [Michael], they wanted to get on the bus. And we were like 'No, you have to wait until you're 12,'" says Ripa. "And so the bus takes off, and we were sitting in the car, and the two of them are fighting and screaming. And I'm like, 'Turn this car around, and get these kids on that bus!'"
— Shruti Dhalwala