Robin Thicke Takes Son's Advice for New Album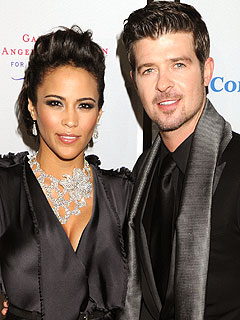 Demis Maryannakis/Splash News Online
Robin Thicke's creative juices are flowing and the first-time father is crediting it all to Julian Fuego, his 11-week-old son with wife Paula Patton.
"Every time I'm with him or see him, it brings up so many new thoughts and feelings in me," the singer/songwriter, 33, explains to Essence.com.
"I've been writing because there are some amazing things I want to talk about and they are all coming out of me at an amazing pace."
And not only is Julian his number one inspiration, but he's also Thicke's biggest critic!
"Some of the best moments are when I'm holding him and I start singing my new song to him — if he cries, I change it … and if it soothes him, I go ahead with it."

While embracing the "unconditional love" he feels for Julian, Thicke admits the newfound feelings initially caught him off guard.
"I didn't expect it to mean so much. I can't define this love, it's a new love," he says. "It's not like being in a relationship with someone where love grows and grows. As soon as your baby is born, you're just in love for the rest of your life."
— Anya Leon