Adriana Lima 'Amazed' By Gisele Bündchen's Post-Baby Body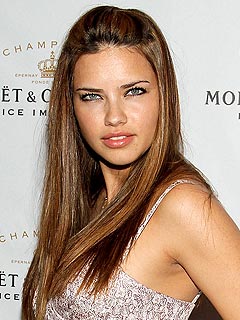 Soul Brother/FilmMagic
There's another model mommy who's making her post-baby comeback!
Following in Gisele Bündchen's steamy modeling footsteps is fellow former Victoria's Secret model, Adriana Lima, who just graced the cover of this month's V Magazine–just seven months after giving birth to daughter Valentina.
"It's really exciting for my career because I've been away for my pregnancy," she told PEOPLE Moms & Babies at Thursday's Follow the Sun Summer Party in New York City. "I'm really excited about coming back."
And what does the bombshell, 29, think about her fellow Brazilian's flawless body?
"Amazing! I think she's amazing," Lima says. "I wish my body was in shape right away like her! I'm still not where I want to be right now but I'm working on it."

The model — who shares baby tips with Bündchen, as well as fellow catwalking mamas Heidi Klum and Alessandra Ambrósio — says that she's still dieting and exercising to get back into her pre-pregnancy form. With an all-protein diet, followed by a detox diet and salads, Lima says that she's also boxing and jumping rope every day to shed the extra weight.
"I want to lose 4 kg (about 10 lbs.)," she says. "Not because of work but because I want to. Also, I will continue with my workouts because I like a toned body. I like everything to be hard."
— David Yi