Saints QB Drew Brees Has a Second Son on the Way!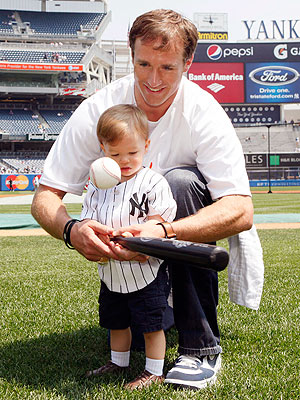 Stuart Ramson/PictureGroup
New Orleans Saints quarterback and Super Bowl MVP Drew Brees is welcoming another son to the family this fall, he tells PEOPLE Moms & Babies.
"We're having another boy," Brees reveals, sharing that the baby is due in October.
"I'm a little nervous going from one to two but I had a younger brother growing up and it was the greatest thing in the world. I'm excited to have two sons of my own and watch them grow up together."
Although Brees, 31, and his college sweetheart wife Brittany don't have any names picked out just yet, they've been overjoyed to be able to talk with their elder son Baylen Robert, 15 months.
"His first word was 'Dada,' says Brees.
"He says so many things now, [but] it's a word association. He'll say, 'Quack, quack' and we know he's talking about a duck, or 'Putt, putt' and we know he's talking about his golf clubs."

With another baby arriving this fall, expect Brees to be on diaper duty.
"I'm not going to lie, my diaper changing skills are actually pretty good," says Brees, who was on hand at Yankee Stadium in New York Sunday to present a $10,000 check to the New York Yankees Foundation on behalf of Pampers Dry Max. "That's what I've done since day one. In the beginning as a dad that was my way to bond with my son."
But he's the first to admit he faced some trouble initially. "There's been some projectile but we got through that. It's all about getting him nice and calm in order to change him."
"He's so great and hands on. He's really the best father," adds Brittany. "The hardest thing for him having to travel [for work] is being away from Baylen. He's always trying to run home to be there with him. I knew that he was going to be a great dad but he blows me away every day."
In addition to being an excellent dad, he's racking up points with his expectant wife as well!
"I get Wendy's Spicy Chicken Sandwich cravings," Brittany reveals, "He'll go drive and get them for me."
— Paul Chi