James Van Der Beek & Kimberly Brook: We're Having a Girl!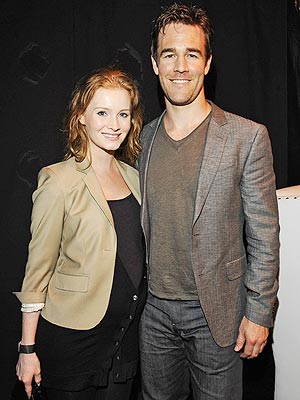 Amy Graves/WireImage
It's going to be a pink-and-white-themed baby shower for James Van Der Beek's pregnant girlfriend Kimberly Brook.
"We're so excited to announce we are expecting a girl!" Brook told PEOPLE exclusively at Tuesday's Jaguar and TyKu-sponsored summer music night at h.wood nightclub in Hollywood.
"We are thinking and taking suggestions for names, but we have no idea [what to call her] right now," she adds of their baby, due this fall.

However, prepping for parenthood hasn't been all fun and games for the happy couple.
"Women have mood swings when they're pregnant, and I'm not immune to them," Brook admits.
"I was literally at the edge of a bed once, telling James, 'You don't get me!'"
Van Der Beek, 33, says he saw the shifts in personality coming.
"When the mood swings happened, they were so textbook, I almost had to laugh," he says. "The hard part was stifling the laughter, like, 'Oh, my God, I can't believe this is happening — this is just like the book said.' She's so amazing, I kind of thought she'd be immune to them."
One thing that's been easy for the soon-to-be-mommy? Abstaining from alcohol.
"Staying away from it hasn't been a challenge at all," Brook says. "It's been kind of nice. I mean, this is L.A. — we've all had a little too much of that!"
— Dahvi Shira