Alicia Keys & Swizz Beatz Bless Baby in Zulu Ceremony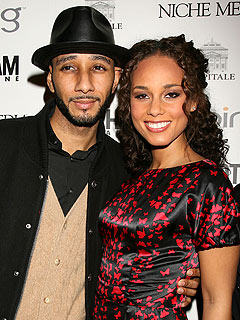 Dave Allocca/Startraks
Rapper-producer Swizz Beatz, who recently announced he's expecting a baby with fiancée Alicia Keys, appeared on Good Day New York Tuesday, revealing that the newly-engaged couple received a blessing during their recent trip to South Africa last week.
"We were doing an event for Bobbi Bear under a special tree where a lot of kids who have been abused come to get special healing to have positive energy in their lives," Swizz said.
"It turned into this ceremony that I didn't know about. I felt like I was on Punk'd or something! But, yes we had a special blessing [for our child]."

The U.K.'s Daily Mail revealed that the traditional ceremony took place last Wednesday in Durban, on the country's eastern coast, and was performed by the elder women in the community. Keys — donning traditional jewelry and a blue robe — and her unborn baby were both given Zulu names during the blessing ritual while standing under a fig tree, known as a healing tree to locals. Keys' mother and brother were also present.
Asked by the show's hosts if they were expecting a boy or a girl, the producer turned coy, responding, "I don't know yet" before explaining he'd like to wait until the baby is born to find out the sex. As for the couple's upcoming wedding, taking place later this year? Swizz said the superstar couple will "let it flow."
During their time in South Africa, Keys performed in the World Cup's opening night with the Black Eyed Peas and John Legend and also performed charity work at a nearby village that they're hoping to help rebuild.
"It's a life-changing trip because it makes you appreciate having shoes on your feet," says Swizz. "It was a real emotional thing for me but we're going to turn something negative into a positive."
— Tiffany McGee