Review: Mutsy's New Lightweight Easyrider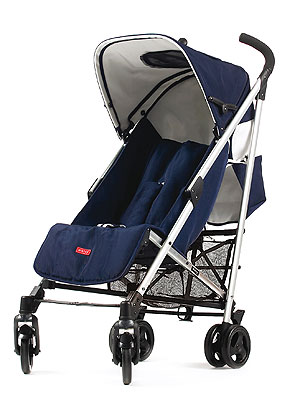 Courtesy of Mutsy
Fans of Mutsy who have longed for a lightweight stroller, rest assured — you've been heard!
The Mutsy Easyrider ($170) is a brand new offering created directly in response to customer demand. Weighing in at just 14 pounds, it's easy to transport without sacrificing baby's comfort in the process.
Things We Like:
The quality you'd expect from a company like Mutsy is on full display with the Easyrider, and nowhere is that more apparent than the stroller seat.
While it's a sling style — like all true lightweight strollers — it's padded as amply as a standard stroller.
It's so thick, in fact, it practically supports baby all on its own, so you don't have to worry about the pea in a pod-syndrome you'll find with other umbrella strollers.
Construction is solid, from the wheels to the frame to the lock which holds the folded stroller in place.  There's no wiggling or squeaking, everything snaps into place quickly and securely, and once you are up and running pushing the Easyrider is a breeze.
A detachable canopy offers good shade and has a locking mechanism on either side, for a sleek look. The basket is on par with other lightweight strollers in that it will hold a medium-sized purse, but probably not a heavy diaper bag.
Adjustable leg rests accommodate children of varying heights, and the Easyrider will safely seat children ranging from 6-months-old up to 33 pounds.
Things We Didn't Like:
While the unfold is intuitive and effortless, requiring just one or two steps, the fold requires some extra work.
After several safety mechanisms have been undone, you must then use your foot to pull up on a locking pedal — which isn't always easy to do in sandals or flip-flops.
Moms & Babies Rating:
If you are already a Mutsy fan, or have always coveted the brand but couldn't afford their more expensive models, you won't be disappointed.
Mutsy's incorporated ease of use and comfort befitting a standard stroller into a much smaller package, making it a welcome addition to the lightweight stroller market.