Sheryl Crow Celebrates New Priorities As a Mom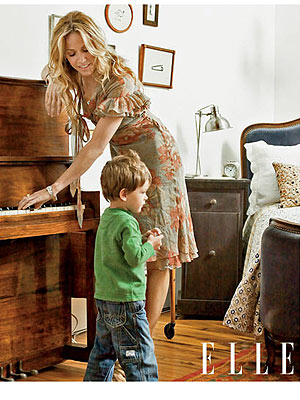 Paul Costello
In the July issue of ELLE, Sheryl Crow opens the door to her New York City loft while discussing life as a mom.
"He changed my life completely," the songstress, 48, confesses of son Wyatt Steven, 3. "I've really put roots down with him. His happiness is my priority."
As a result, Crow — also mom to Levi James, 7 weeks — says that her enthusiasm for flea market "junking" has waned.
"One thing I've learned about children and antiques is that you just have to let go," she admits.

Her love of the loft remains strong, however.
"Everybody in this building either grew up here or raised their kids here, and you can just tell that this is a place that has held a lot of life and a lot of good memories," she says.
The location is also hard to beat! During the interview Wyatt welcomed August Hermann, 4 this month — son of Law & Order: SVU star Mariska Hargitay — for a playdate, but Crow says that her Nashville farm continues to win out. Pointing to Wyatt, she notes,
"Look at him, he's like a Labrador — he needs to be outside, running around."