Marisol Nichols: Daughter Rain Actually Loves the Rain!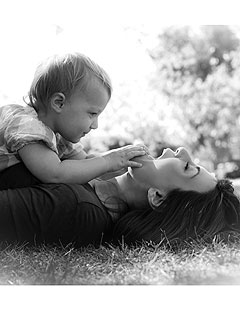 Duffimages.com
Life is wonderfully hectic for Marisol Nichols these days.
Currently filming a new ABC drama, The Gates, in Louisiana, the actress is blissfully raising her first child, daughter Rain India, 20 months, and relishing in her new roles on and off screen.
Though director husband Taron Lexton is at home in Los Angeles working on projects of his own, the pair is making long-distance marriage work (she'll be home in August!) while watching Rain grow up.
Nichols recently took some time out from shooting The Gates to talk to PEOPLE Moms & Babies about Rain's recent milestones, definite plans for baby number two and her temporary new Louisiana life.

How is Rain doing?
She's amazing; she's such a good girl. She loves it here, she loves the rain, coincidentally, and she loves water. Since it rains here a lot, she gets to play in puddles pretty frequently.
They also have amazing parks here, the best parks I've ever seen, so she goes every day. Her body is really, really strong, her height is off the charts, percentile-wise, and I'm amazed at how independent she is at such a young age.
She comes everywhere with me. I couldn't even concentrate if she was back home!
Where has she traveled to so far?
Los Angeles (where Nichols and Lexton live), Louisiana, Florida and Chicago. That's it so far. But she's flown a lot! She's been flying with me since she was six weeks old. She's an amazing flyer. I don't mean to brag, but she's great!
We do this game during take off, where we ask, 'Do you want to go up up up?' And we make sure we're by a window, so she can watch other planes go 'up up up.' We can't even take her to the airport to pick someone up anymore because she's jealous she's not going 'up up up.' When we land, she asks, 'More? More?' I really lucked out. I remember freaking out in the beginning, wondering how to fly with an infant.
Even though she's adaptable, it's still not easy. We bring every single food she could ever want on the flight, and have bottles ready for when we do go up and down for her ears so they don't pop or clog.
She'll also play with the on-board magazines in the seat pocket. That's like a toy for her. So I don't have to pack a ton of toys for her anymore.
Her favorite thing, though, is Elmo, and we got an iPad, so she can watch full-length features. She likes Elmo, and Up the movie, so we'll have those ready and waiting if we need them.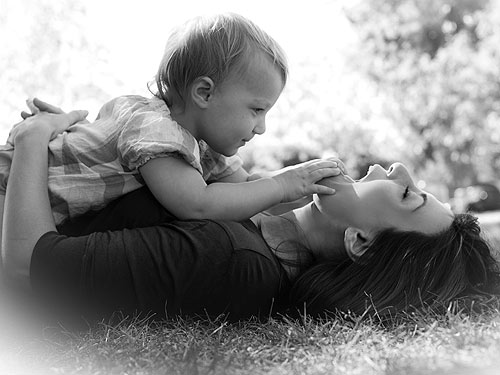 Duffimages.com
What's a typical day for her like?
If I'm going to work, hopefully I have a late call time, and can hang out with Rain and our nanny until we shoot. There's a science museum about a block away, and I have a membership, so they'll go there together, then join me when I'm done. It works out really nicely.
My husband is in L.A., so he comes back and forth, and he misses his daughter like crazy. It's been hard, but we work it out and figure it out as we go.
Has Rain hit any milestones recently?
Instead of saying 'Yes,' she's saying 'OK.' I'll ask her if she wants more of her bottle, and she'll say, 'OK!' But I think we can really communicate now. She got 'no' right off the bat, and now with 'OK,' we can get answers. It's very cute, and for us, it means we can give her what she wants.
She's also cutting molars now, which is not easy. We know it's a milestone, but not a fun one. But we'll get through it.
Is she more of a daddy's girl or a mommy's girl?
A little of both. When dad is around, because he's not around all the time these days, she's a daddy's girl, but when he's gone it's all about mama.
Has the separation from your husband been hard?
It's really hard to be away from my husband! We make due. We both agreed we'd do this, see how it goes and figure it out — but ideally we'd like to be together. He's a director, I'm an actress, so it comes with the territory.
There's been a lot of Skype and iChat. We're scheduling time when Rain can be in front of the computer, too. We haven't gone that long — about three weeks was the longest — so it could be worse.
What's Taron like as a dad?
He's such a good dad. He loves her so much! There are times I find myself caught in those moments; I stop and just watch. They'll just be playing, and it's amazing how much energy he has for her. He'll pick her up, swing her around — he comes up with that for her.
Do you think Rain could possibly follow the family business someday?
She watches herself in front of a mirror — I must've done that when I was a kid — and I'll say 'Is that Rain?' and she'll start smiling or flirting with herself.
She loves music, and watching videos of herself. We'll see if she gravitates toward it. Whatever she wants to do, I'll support.
How do you balance motherhood with your acting?
I can bring Rain with me everywhere I go, but when she's in school I don't know what I'll do. The longest I've been away from her is three days, and I cried my eyes out. The first day of school will be so hard.
It's a balance — I have to work, and I love what I do, and I have to make money and don't want to give up that part of myself. But I want to find jobs that make me available to her. My job makes me a better mom, and she makes my jobs better, because she makes me happy.
Do you plan to have more children?
I really want to be able to have another one; I want Rain to have a brother or sister. It'll probably be another year or two, when Rain is older, and can really be a big sister to someone. But who knows. I could get pregnant and say, 'We're gonna do it now!' I have no idea.
Do you find it hard to stick to your routine when you're not home, especially in a place known for its food?
I found a phenomenal Pilates teacher here! She travels all over the world, and she's great. I lucked out with that. As far as food goes, I cook a lot, so it hasn't been that difficult for me to stick to an eating routine. We're sort of isolated out here.
I do have my wonderful fun cheat days, though. We had an episode where all the girls wore bathing suits, so I was strict until after those bathing suit scenes. Then, I went and found a good cupcake!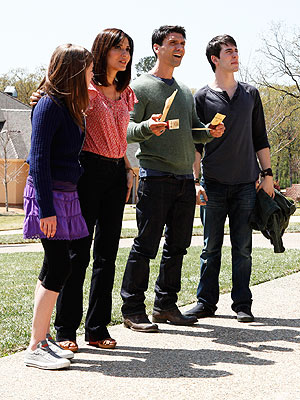 Steve Dietl/ABC via Getty
Tell us about your new ABC series, The Gates.
I love it! I'm addicted to it. It's nice to be in love with your show.
The Gates (which premieres June 20) is about a gated community that looks like Wisteria Lane of Desperate Housewives, but everyone in it has a secret of their own: They're a vampire, werewolf, witch or some other creature.
Anytime you can play with that supernatural stuff, the darker side of things, it's fun.
I'm the character who moves with her husband and family from Chicago, and I'm completely unaware of what's going on around me, and all the secrets my neighbors hide.
My character's whole goal is to start a new life in The Gates, and make it an amazing place to live for her family. I can relate!
For more on Marisol, check out her official Web site or follow her on Twitter. The Gates premieres Sunday at 10 p.m. on ABC.
— Kate Hogan