Kyra Sedgwick Bracing For an Empty Nest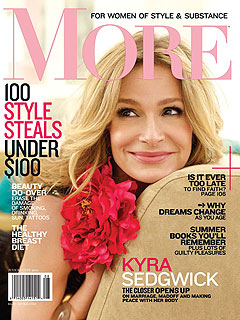 Courtesy More
For actors Kyra Sedgwick and Kevin Bacon, family life began on a whim.
While honeymooning in 1988, "We were like, 'Let's just not use birth control,'" the star of TNT's The Closer recalls in a new interview with MORE magazine.
"I didn't think it was going to happen so fast," she adds. "I got pregnant in two weeks."
Son Travis, 21 this month, recently completed his junior year at college, and 18 years after saying hello to daughter Sosie Ruth, Sedgwick and Bacon are once again preparing to say goodbye.
Of her rapidly approaching empty nest, Sedgwick muses, "It's like, you've had this job forever, it's the job you always wanted to do, and you were pretty good at it … Then you get fired for no reason!"

Before Sosie leaves for university in the fall Sedgwick plans to pack in as much mother-daughter time as possible, even pushing back production on The Closer by several weeks.
"I set my alarm to wake up so I can see her," she reveals. "I don't make plans on weekday evenings in case I can spend time with her. It's pathetic; I don't care."