Padma Lakshmi: Krishna Will Have the 'Greatest Palate in the World'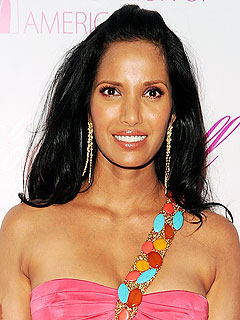 Andrew H. Walker/Getty
As host of Bravo's Top Chef — which premieres its new season at 9 p.m. Wednesday — Padma Lakshmi is game for just about anything.
"We eat all kinds of funky things on the show," the cookbook author, 39, said during a Tuesday visit to Lopez Tonight.
As a nursing mom during production for season seven, however, Lakshmi was often eating for two!
That's why daughter Krishna Thea, 3 months, "will have the greatest palate in the world," the proud mama predicts. "She ate everything that I ate, through my breastmilk."
"My baby was having a little bit of yak, a little bit of curry goat, a little bit of duck balls," Lakshmi laughs. "I've eaten a lot of testicles in my days … I've had bull's cojones … I'll try anything once."