Author Emily Giffin's Top Summer Reading Picks — for the Whole Family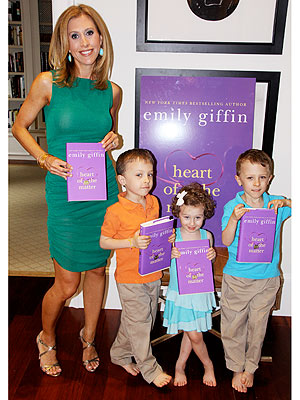 Courtesy of Emily Giffin
Ever wondered what an author reads? Recently, writer Emily Giffin, whose newest tome Heart of the Matter is on shelves now, talked to PEOPLE Moms & Babies about what she's reading with her kids — and for herself.
"We always read before bedtime," she says. "It gives the kids something to look forward to. And if we can't finish a chapter, or if it's late, we'll continue at the breakfast table."
Giffin shares that her 6-year-old twins, Edward and George, are just getting into chapter books.
"I'm reading the second book in the Harry Potter series to them," she says. "We just went through the Ramona series, too. That's one I fell in love with, so it's very satisfying that they're enjoying those stories."
Though Giffin says pictures books are perfectly fine at this age, the more words, the better. Her recommendations include Harriet the Spy, Freckle Juice, The Little Princess and From the Mixed-up Files of Mrs. Basil E. Frankweiler.
Daughter Harriet, who recently turned 3, has some favorites of her own, too. "We enjoy newer books, like Fancy Nancy and Pinkalicious. But I love reliving my favorites, like The Story of Ferdinand," she says. Other picks include Where the Wild Things Are, Harold and the Purple Crayon, Madeline and Emily's Balloon.
But what about moms looking for a beach read? Giffin says she's read a lot of winners lately, including Falling Is Like This, Husband & Wife, Opposite of Me and My Fair Lazy.
As for her own book, New York Times best-seller Something Borrowed, being turned into a movie with Kate Hudson, Ginnifer Goodwin and John Krasinski, Giffin can only say it's surreal.
"I feel so grateful for the luck I've had," she says. "It's the cherry on top of my career! I love the casting, and I'm shamelessly into reading about celebrities, so it's been especially fun to see it come to life."
Learn more about Giffin's best-selling books on her official website, EmilyGiffin.com.
— Kate Hogan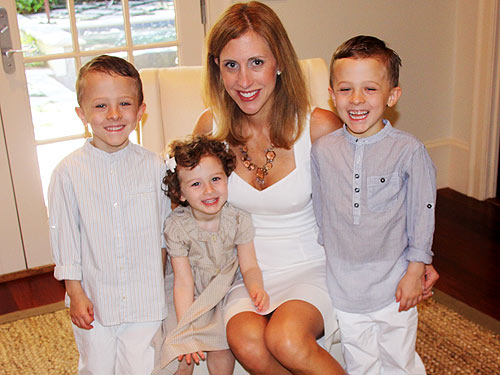 Courtesy of Emily Giffin