Christina Aguilera Refuses to 'Raise a Brat'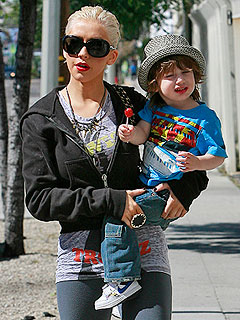 Flynet
Having celebrated his second birthday in January, Christina Aguilera is allowing son Max Liron to test the waters of toddlerhood — to a point.
"No child is terrible. When you're at that age you're just learning how to express yourself and balance all these emotions and feelings," she tells Billy Bush of the infamous terrible twos.
"I'm definitely an understanding mom … but discipline is a big thing for me too. I'm not raising no brat!"
Despite the cancellation of her Bionic tour, Aguilera, 29, insists that when the day comes to hit the road, Max will be by her side.
"I've got my mommy concerns, you know, bedtime and schedules and time differences," she admits.
"It's going to be a little crazy and a little cranky at times I'm sure, but I'm not the first person to do it and I won't be the last. We'll find our comfort zone with it."
— Anya Leon