Mini Must-Have: The Affleck Girls' Cool Wagon
The Affleck sisters — Violet, 4½, and Seraphina, 17 months — sure know how to roll in style.
During a trip to a Beverly Hills Farmer's Market on May 30 with mom Jennifer Garner, the super cute twosome skipped the walking and instead tooled around in Radio Flyer's Ultimate Comfort Wagon ($144).
With its cushy padded seats, roomy storage bag and nifty umbrella, it's the perfect ride for a lazy Sunday afternoon.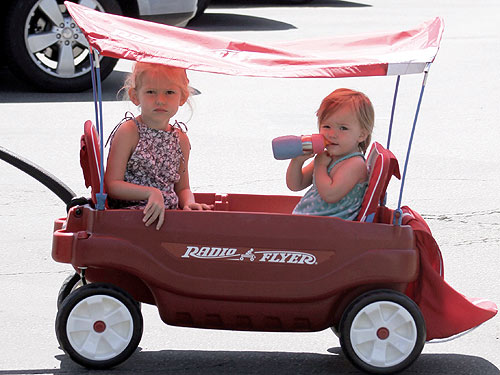 Ramey
Want a wagon for your tots? Check out Radio Flyer's other cool offerings below.
The company — which has been in the biz for 90 years — has other summer-worthy styles including the retro-inspired Classic Red Wagon ($70), the rough and tumble All-Terrain Steel & Wood Wagon ($120) and the sleek Pathfinder Wagon ($70), which is equipped with seat belts and cup holders.
Check out their full collection of wagons, scooters and trikes at RadioFlyer.com.
— Anya Leon