Jada Pinkett Smith: Why I Chose to Pose Nude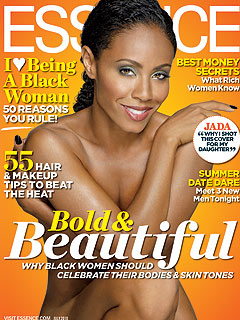 Courtesy Essence
When Jada Pinkett Smith made the decision to strip down for her latest photo shoot, which included shedding the taupe-colored shorts she had originally planned to wear, the actress hoped the result would inspire African-American women worldwide — beginning with 9½-year-old daughter Willow Camille Reign.
"She said, 'Mommy, you look so elegant,'" the Essence July covergirl reveals about Willow's reaction upon seeing the pictures.
And much to Pinkett Smith's delight, the nude photos sparked a conversation — and a teachable moment — between the mother-daughter pair.
"She went through all of her friends and talked about all of their different personalities and what made them beautiful," Pinkett Smith — who will be answering questions regarding the importance of education at the upcoming Essence Music Festival in New Orleans — says.
"To start the next generation of young black women with those ideas of who they are, to give them a foundation for their identity, to show them how we represent ourselves, our beauty, our bodies, our sexuality, our sensuality, our power. What greater gift could we give our daughters?"
— Anya Leon