Catherine Bell: Son Was Conceived 'Pretty Much Naturally'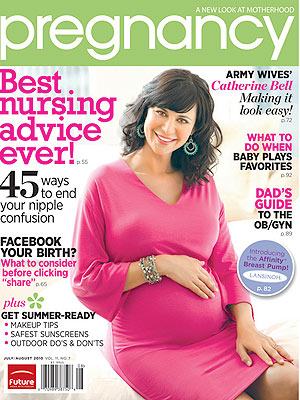 Courtesy Pregnancy
In the July/August issue of Pregnancy, Catherine Bell says that the baby boy she expects in August was far from a surprise.
"We were totally trying," the Army Wives star, 41, reveals. "I conceived pretty much naturally."
In fact, it was just two months after starting the fertility drug Clomid that Bell became pregnant — and not a minute too soon for Gemma, 7, her daughter with Adam Beason.
"She has been begging us for a sibling for two years," Bell says, "so she was absolutely thrilled when we told her."
There were other reasons Bell says the couple "wanted this to happen quickly," and topping the list is a movie Beason wrote for Lifetime in which Bell will star.
"I really wanted to get pregnant and give myself time to recover," she explains. "I'm trying to give it at least 10 weeks."

As with Gemma, Bell says she will deliver by planned c-section. "I had a great experience last time around," she shares. Unfortunately, the easy pregnancy she enjoyed with her firstborn has not been apparent the last few months!
"This one is totally different," she confesses. "I'm exhausted and I need naps often."
But while "there are more tests and a little more worry" because of her age, Bell says the first-time parenting jitters are gone.
"I'm more relaxed and not reading every book on pregnancy and babies like I did before."