Twice As Nice: Jessica Alba and Maggie Gyllenhaal's Mommy-Chic Dress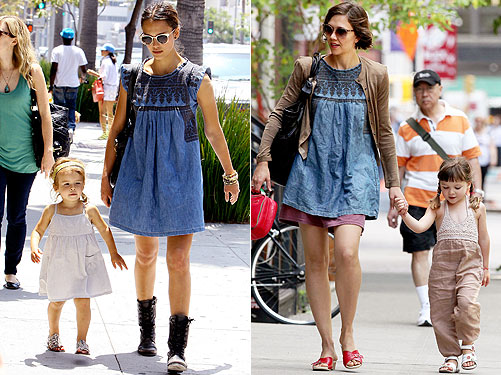 Juliano Garcia/INF; Santiago Baez/Ramey
Are we seeing double?
On June 5, we spotted Jessica Alba looking super stylish in a boho-chic peasant dress, Melinda Maria 18K gold-plated Mini Pod bangle ($68) and black combat boots on a brunch date with her little cutie Honor, 2, and husband Cash Warren (not pictured) in Beverly Hills.
And just three days later, we spied Maggie Gyllenhaal — in the exact same dress paired with Worishofer's 251 sandals in red ($57) — strolling N.Y.C.'s West Village after picking up daughter Ramona, 3½, (check out her adorable Stella McCartney for GapKids crochet romper!) from school.
Turns out, these fashionable moms are wearing Isabel Marant's Leal Denim dress ($695). Perfect for breezy summer days, you can wear it alone or as a tunic top.
TELL US: What do you think of Jessica and Maggie's mommy style?