Giada De Laurentiis and Jade Love to Cook – and Sing!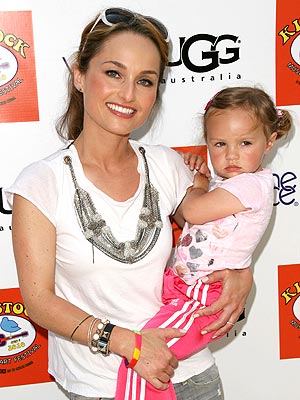 Amanda Leddy/Splash News Online
Chef Giada De Laurentiis has a special cooking partner – her 2-year-old daughter Jade Marie.
"She has a kitchen in her playroom with little baby pots and pans and we simultaneously cook," De Laurentiis told PEOPLE Moms & Babies Sunday at the 4th Annual Kidstock Music and Arts Festival in Los Angeles.
The Food Network star and Today show contributor also bonds with her daughter over another shared love – singing.
"She likes to sing the songs that I like. Her favorite right now is 'Kids' by MGMT," De Laurentiis, 39, laughs.
"The funny thing is, now I hate the song myself!"

She and Jade will soon hang up their aprons and give their voices a rest come August when the pair, along with husband Todd Thompson, head to Lake Tahoe for a little rest and relaxation after taping wraps on her Food Network show Giada at Home.
"We rented a house on the lake," De Laurentiis explains. "Jade loves the water and so does her Dad. We're going to spend some time up there, get away from everything for a bit."
— Michelle Ward