You Asked, We Found: Christina Aguilera's Mommy ID Bracelet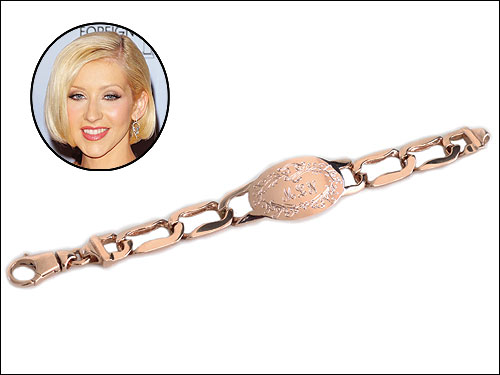 Kyle Rover/Startraks, Courtesy of Garland Collection
Most celeb moms like to show love for their tots with cool charm necklaces. But being the trendsetter she is, Christina Aguilera opted for a different kind of mommy bling.
The pop singer recently purchased Garland Collection's Signature ID bracelet ($3,750) and had son Max's initials engraved on it. With its oversize links and retro-inspired nameplate, it's the perfect piece to wear everyday. It's also available in white, yellow and rose gold.
Out of your price range? Check out the Charming Collection. The Alphabet Block Necklace ($210) is chic — and affordable. Plus, you can add letter charms ($120) for every child's name.
Added bonus: The designer's offering Moms & Babies readers an exclusive 20% off discount. Just enter code: PEOPLEBABY at checkout.