Joey Fatone: I Want to Make My Family Proud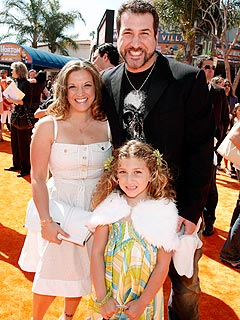 Kevin Winter/Getty
Former 'NSYNC member Joey Fatone never had a problem impressing girls — until it came to his own daughter, 9-year-old Briahna Joely.
"I want my kids to be excited about what I do," Fatone, who has signed on for a guest appearance on Disney's Imagination Movers, tells Time Out New York Kids.
"My daughter doesn't care about what I did with 'NSYNC, but once I did Hannah Montana about a year ago, I became God to her."
And while his eldest girl — Fatone and his wife Kelly welcomed a second daughter Kloey Alexandra in January — may not be interested in her dad's singing days, Briahna does love visiting his former stomping grounds: New York City.
"There's a pizza place in Brooklyn she loves called Spumoni Gardens," he shares.
"She keeps asking if she's from New York or from Florida. I tell her she's a Floridian, but she's kind of a New Yorker because I keep bringing her back to taste all the food and culture."

Noting his daughter "loves to sing and entertain," Fatone reveals Briahna is a star-in-the-making, if she can overcome her nerves!
"She did The Wizard of Oz where she was a crow," the proud papa, 33, raves.
"She was actually offered the part of the Wicked Witch, but she turned it down because she got nervous and wasn't sure she could learn the lines."
— Anya Leon