Cat Cora's Tips and Tricks For Getting Kids to Eat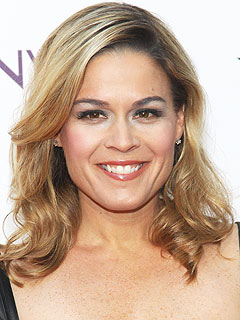 Amanda Schwab/Startraks
Raising four boys while managing a busy career is a team effort for Cat Cora.
The celebrity chef tells WebMD magazine that she has surrounded herself with good people, both at work and at home.
"If it weren't for my partner, Jennifer, I would not be able to do all I do," Cora, 43, reveals. "She does so much."
The couple — for obvious reasons — approach dinnertime with enthusiasm and to that end Cora says Zoran, 6, Caje, 3, Thatcher Julius, 13 months, and Nash Lemuel, 10 months, have been exposed to a wide variety of tastes and textures from an early age.
"Jennifer and I introduced spices — ginger, cinnamon and nutmeg — when the children started eating rice cereal to help develop their palates by balancing the savory with the sweet," she explains.

Getting the boys involved in meal planning has helped them feel "invested" in their food choices, Cora adds. "Don't want broccoli tonight? OK, how about carrots? Great … The more you do it, the more they get used to it."
Hopefully, everyone has had their say in the process!
Cora says that once a dinner has been decided upon, there are no deviations. "In the evening we cook one meal; This is dinner, that's it," she reveals. "After that, the kitchen is closed."
Should someone refuse to eat, Cora says she reminds them that their hunger is only temporary. "I say, 'OK, guess we'll be having a big breakfast in the morning!"
"It only takes one or two times and they get it," she continues. "My kids are just like everybody else's out there. It's hard when they're younger than, say, two-and-a-half to do this, but after that age they're able to understand."