Teri Hatcher: Unrealistic Expectations Lead to Public Tantrums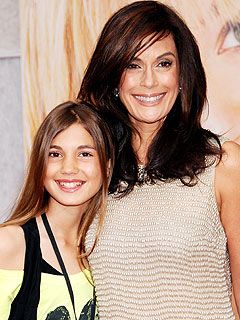 Gilbert Flores/Celebrity
The public tantrum is a scenario most parents will eventually encounter, but Teri Hatcher never has.
Mom to 12-year-old Emerson Rose, the Desperate Housewives star concedes that it is an enviable position to be in.
"I know, hate me," she quips to Babble.
All joking aside, Hatcher opines that tantrums occur when "we put our children in situations we have no right to."
"We push them when they are tired; we create a behavior reward system with everything from food to stickers to toys," she elaborates. "That will always backfire."

Instead, Hatcher believes that children should be taught to behave appropriately "because it's the right thing to do, not out of fear of time-outs or cookie rewards."
"My advice: Deal in the boundaries of expectations of what a three-year-old should be able to do without a tantrum," she adds.
Parenting isn't an exact science, of course, and Hatcher, 45, doesn't strive for perfection.
"Use mistakes and mishaps as opportunities to grow tolerance and to teach," she advises. "There is such a thing as happy accidents."
A social life — or lack thereof — is Hatcher's own biggest parenting challenge, but she insists that as a single mom she harbors no regrets.
"I'm not sorry for it, but I have sort of let that go," she concedes. "My daughter's old enough now that it's easier, more guilt-free [to have a social life], but there have been some lonely nights. I wouldn't change that."