Kid-Friendly Decorating Tips from Stars of 9 By Design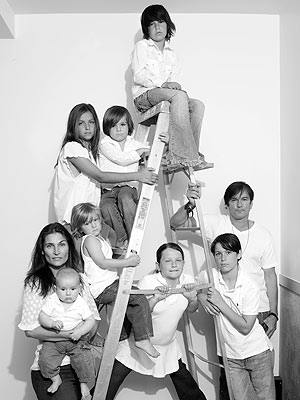 Tim Geaney
Robert and Courtney Novogratz have a lot on their plates.
Not only did they just wrap the first season of their reality show, 9 by Design, but they're raising seven children under the age of 13, too!
So the couple definitely knows a thing or two about creating kid-friendly rooms.
And it seems mom and dad are rubbing off a bit on their brood (Wolfgang, 12, twins Bellamy and Tallulah, 10, Breaker, 8, twins Five and Holleder, 4, and Major, 16 months).
"A lot of our kids have very specific design likes and dislikes," Robert and Courtney tell PEOPLE Moms & Babies.
But mostly the family loves watching movies, eating pizza before bedtime and traveling.
Since the Novogratzes — who are co-owners of Sixx Design — are such pros, we asked them for their top tips for creating nurseries and childrens' rooms out of unique spaces.
Check out what they had to say.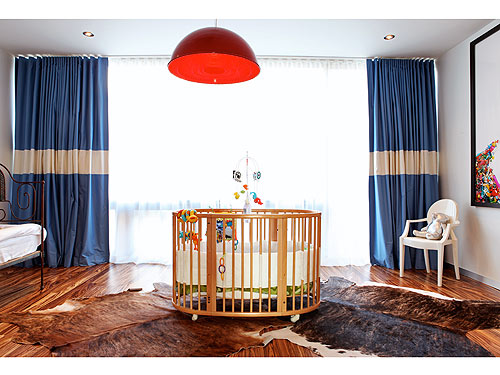 Tim Geaney
Decorating a nursery for a delivery surprise
Go for a neutral hue. Pale yellow, green or even white work well. You can always add accessories and bedding for color later.
Keep the décor simple. You want to create a room that will work regardless of the sex. Plus, kids grows up so quickly, it's best to design something you can update over time.
Have fun with art. Cool, colorful posters and paintings will stimulate your baby from the moment they are born. Just frame with plexiglass to guard against accidents.
Decorating a nursery on a tight budget
Shop at budget-friendly retailers. Ikea stocks stylish and affordable cribs, bedding and nursery accessories. Also, buy paints from big-box store, like Home Depot, where prices are reasonable and the selection is vast. Online shopping is also a great way to find bargains. We love Amazon.
Reuse what you already have. Try spray painting an inexpensive set of drawers in a fun color. Repurposing things in your house is a great way to decorate on a budget.
Decorating a shared bedroom
Go for a unifying theme. From the paint to the bedding, choose colors that don't clash. And if your kids are old enough, ask their opinion. It will make them feel a part of the process. Want to add a personal touch? Give each child their own "expression" wall. That way they can put up their favorite knick knacks or photos that reflect their personality.
Carve out "me" spaces. A nook, no matter how small, gives them a place to call their own.
— Kate Hogan