M.I.A. Says Life Struggles Are Inevitable for Ikhyd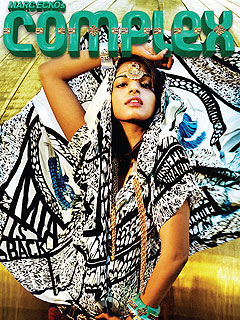 Courtesy Complex
In a new interview with Complex magazine, M.I.A. says that son Ikhyd Edgar Arular, 15 months, is already enjoying a childhood vastly different than her own.
"I had to spend ages on stupid s–t, like getting to know about racism on a really street level, growing up in the projects," the singer/rapper, 34, explains. "I think he's gonna have it in a different way."
To that end, Ikhyd is currently living life at opposite "extremes," staying with mom at his maternal grandmother's house which M.I.A. describes as "the size of somebody's closet in California."
Dad Benjamin Bronfman, by contrast, comes from a family at "the complete opposite end of the spectrum" according to M.I.A., who feels that those differences are "where [Ikhyd's] lessons are gonna be learned."
"I want him to grow up here and spend as much time as possible with his grandma to learn the things I learned growing up in this house," she continues. "He needs to hang with everybody and meet people and find out what they need and find out what the problems are and what the solutions are."

While M.I.A. says she doesn't "hope" for Ikhyd to experience struggles in life," she concedes that "he's probably going to have them" nonetheless.
"Any kid being born in these times is gonna have to be resilient to a million and one things," she explains. "We thought we'd seen it all, and our parents thought that they'd seen it, but every generation it gets more and more intense."