Katherine Heigl Betters Herself for Naleigh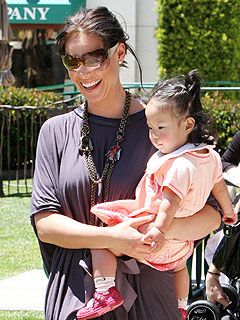 Mike/Fame
Motherhood has brought out the best of Katherine Heigl, for the Killers star says she's shed her worst habits since welcoming daughter Naleigh, 18 months.
"[It] used to be smoking but I quit," Heigl, 31, tells FOX News, "so now it's just cursing but I've curtailed that because my daughter is in a mimicking phase where she'll repeat everything I say, and that did happen once before."
In her upcoming film One for the Money, Heigl portrays a bounty hunter and she says she has no plans to walk away from edgier roles now that she's a mom.
"I'd hope to never do anything that I would be ashamed for her to see, but now that I've got a child I'm not going to only do children's films," she explains.

Naleigh does factor into Heigl's decision-making process in a different way, however.
"My work now is so about her, I don't want to do anything that will take me away from her for too long or put her in an environment that she's not comfortable in," Heigl shares. "The worst part is leaving her to work, but I love to work and I love what I do. So it's this contradiction."
Comparing herself to the Grinch because "my heart is too big for my body," Heigl is clearly smitten.
"I love this child in a way I have never loved," she confesses. "I imagined, but I never knew."