Cheryl Hines: Work Makes Me a Happy Mom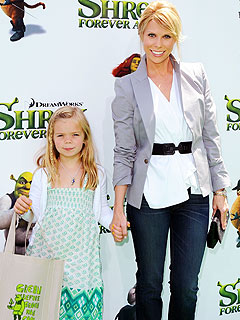 Jon Kopaloff/FilmMagic
Life with Cheryl Hines must be pretty fun — and funny!
The actress and comedienne, known for her hilarious role on Curb Your Enthusiasm, brings the laughs through everything she does.
Now Hines, mom to Catherine Rose, 6, with husband Paul Young, is teaming up with Hebrew National to feed America's needy children this summer.
The actress recently took some time to chat with PEOPLE Moms & Babies about that project, as well as her new show School Pride and of course, mommyhood.

How do you balance your work schedule with being a mom?
I find it hard, but not impossible. I really love working, and it makes me happy to work, and to me, that's important, because it makes me a happy mom.
I love putting my daughter to bed at night. I do everything I can to make sure I'm home to put her to bed, and I'm there in the morning when she wakes up so I can send her to school. You just have to carve out time — it's a precious commodity — and manage it properly.
Similarly, when I'm home, I try not to think about work, and when I'm at work, I try not to obsess about what I'm missing at home.
Is Catherine in school now?
She's in kindergarten! Just wrapping up the kindergarten year. She loves it, she has a great time at school. For some reason, she hasn't loved learning how to read. I think it's like taking a bath — kids never really want to do it, but afterward they feel better.
I know she's glad to learn to read, but for some reason it's painful for her. But we're getting there. We read a lot of books together. Every night we carve out time to read, and now she's even reading some books to me, too.
Does she ever join you on set?
She does! If I'm on location, she generally comes with me, although it'll get a little trickier now that she's in school. She's actually very good in studios — she sits at the monitors and knows that she can't make a peep or she'll get kicked out!
The other day we were doing something together, and she said, 'Let's take five!' She's got a little bit of showbiz in her blood, I'm afraid. I'd support her in anything she wants to do, but I'd tell her not to be an actress unless she literally felt a burning in her belly, telling her she had to be. It's a tough road.
So she understands what you do.
She does, at least I think she does. But to her, it's not that impressive. Although I did do Hannah Montana, so she was mildly impressed with that, because she got to meet Miley Cyrus.
How do you two bond? Is she still at an age where she admires mom?
We have a lot of fun together. She's a very funny girl! We love to go out for frozen yogurt together, and sometimes we'll get our nails done. She just got a gecko, and spends a lot of time looking at it, watching it shed its skin … watching it lick its eyeballs.
We also like to bake together. We bake a lot of cupcakes!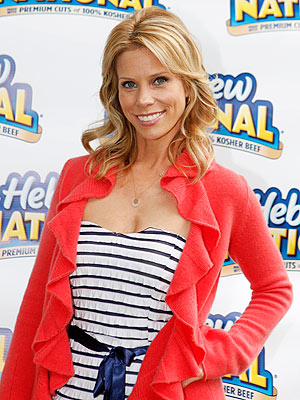 David Goldman/AP
Does she pick out her own clothes?
She does. She wears a uniform to school, and I saw one of her teachers the other day, who told me she always looks forward to free dress days because she can't wait to see what Catherine will wear.
She's very sweet. When I travel, she likes to pack my jewelry for me, and pick out my accessories.
So if you see me at the grocery store with a beaded evening handbag, it's because she really thought it was important for me to wear those crystals.
Is she close with her dad, too?
She is very close with her dad. She always tells me, 'Daddy lets me do anything I want.' And my husband's like, 'Yeah it's kind of true.'
I'm like, come on! We have to have a little discipline somewhere. I'm the mean one, and I'm not that mean.
Do you plan on having any more kids?
I think one good one, and I'm out. I love her so much, and I love every minute I spend with her. I know people have more than one kid and they manage to divide the time, but I don't know if I could do it. I like having one that I can give everything to.
Why did you decide to get involved with Hebrew National?
I'm really happy that Hebrew National is teaming up with Feeding America, and I love the Magic Summer Lunchbox they're sponsoring. They're going to make sure that children who get a free lunch during the school year get something to eat during the summer months. It just really struck me — it's so important to be sure these children are fed well.
Is your family into summer barbecues?
We barbecue almost every Sunday! My daughter loves hot dogs. When we do cook out, they're honestly the easiest thing to make — you can't go wrong with them!
When my mom travels to say, a summerhouse, for an extended period of time, she brings her own little plug-in hot dog griller and her Hebrew National hot dogs. She's a lady of convenience, what can I say.
What are your family's summer plans?
I go to Florida every summer. My whole family lives there, and we spend a lot of time outside.
Other than that, I'm trying to figure things out now! I'll be producing a TV show called School Pride, where I go across the country to renovate schools. I'll be on the road a little for that, so I'm trying to figure out what my daughter will be doing.
Tell us more about School Pride.
It's for NBC, and we're going across the country to schools that have been neglected, and essentially giving them a makeover. We're painting the school and classrooms, and talking to the kids and teachers — trying to ignite a sense of pride for the school, basically.
I started doing this on a grassroots level in L.A., and what I learned is that by going into a school that had been neglected, and rallying the community, the teachers, kids and parents to fix it up, it sends a huge message to the kids that we care. And even by doing that, we've found test scores have improved and property values around the school have gone up. It's just a huge impact that comes with this one bit of work.
It's fun work, but it's hard. I've done three schools so far, one for School Pride and two not on TV, and I get there in the morning, and whatever needs to be done, I'll do. There's a lot of dirt in these schools! You come home and you're just dirty, and God knows what's in your hair! But you feel good. It's a good-dirty feeling.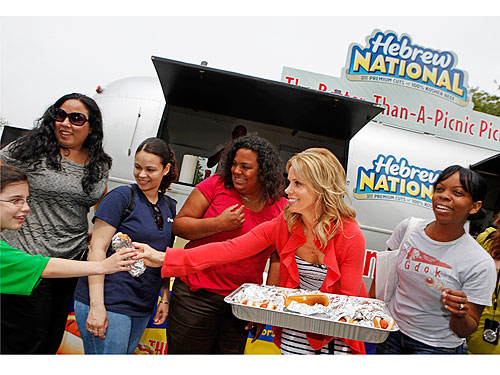 David Goldman/AP