Carson Kressley: 'Have Fun' With Your Child's Wardrobe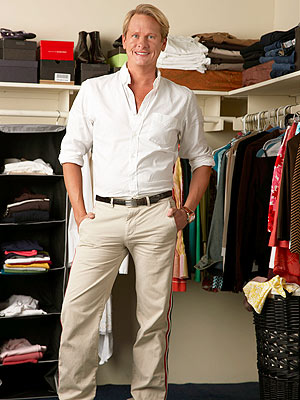 Courtesy of Clorox
With summer just around the corner, it's time to put those heavy layers away and say 'hello' to bright lightweight duds.
Especially if you have little ones — now is the time to really have fun with their wardrobe!
We recently spoke with style expert and True Beauty host Carson Kressley to get his take on warm-weather fashions for kids.
Here are his tips for dressing your tots this season:
Less is more. "With kids clothes, it's all about having fun," Kressley tells PEOPLE Moms & Babies. "I hate to see kids all done up in a head-to-toe outfit — they look like a walking mannequin."
He recommends easy clothes, like breezy dresses for girls and simple T-shirts and cool shorts for boys, to keep kids looking cute but not overdone.
"No one's expecting your baby to be dressed up in a fully-coordinated outfit in the summertime. Kids are supposed to look relaxed." For affordable (and stylish!) mini fashions, Kressley suggests checking out Old Navy.
Involve your kids in the dressing process. "If your child loves coordinating his or her own outfits, that's great," he says. "But you don't want getting dressed to be drama."
Kressley advises letting your children select a few options, then gently guiding them with a few ground rules.
"Tell them that orange doesn't go with green, or maybe say you'll pick their top, and they can choose everything else that goes with it. It's important they're involved, so they grow to love it."
'Mommy & Me' is OK … if it's not obvious. "Too matchy-matchy looks weird, like you have a mini-doppelganger," Kressley laughs. "Instead, nod to each other's style with a similar color theme or print."
Keep clothes clean and bright. "Hopefully, your kids are out there getting grass stains, spilling mud and all that fun stuff," says Kressley, a spokesperson for Clorox bleach. "And you'll want to make sure their clothes look the best they can — clean and well taken care of. That's half the battle."
— Kate Hogan