Karolína Kurková 'Having More Fun' As a Mom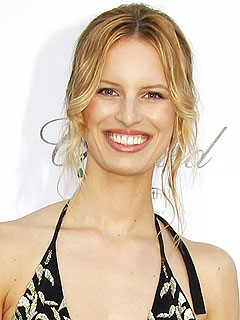 ANG/Fame
Upon her return to the runway following the birth of her first child — 6-month-old Tobin Jack — a rejuvenated Karolína Kurková says that motherhood brings with it "a higher purpose."
"I did take a few months off, to make sure we bonded and established a relationship as a family — not just me and the baby, but my husband [Archie Drury], too," the 26-year-old model explains to W magazine.
"But now I'm back to work and it's actually busier than ever. I'm having more fun."

That she's able to bring Tobin along for the ride certainly helps, and to that end Kurková concedes she is "fortunate."
"I want to incorporate him into my life as much as possible," she continues. "And he's getting used to being in different places and around new people. I think he likes it!"
That Kurková was able to reclaim her place in the modeling world — as well as her pre-baby body– so soon after giving birth is a testament to a healthy pregnancy.
"I didn't gain much weight, and I think the secret was really staying active throughout my pregnancy," she says. "I did Pilates, a lot of weight training, I walked a lot and I traveled. I lived my life, you know?"
Diet also played a role, with Kurková noting, "I was eating really healthy, taking good supplements and vitamins, drinking green juices and just making sure I was putting the best stuff in my body."
Fortunately, she rarely suffered cravings for junk food; Instead, Kurková says she craved "more natural foods" while making sure to eat "lots of fiber." "I'm all about listening to your body," she adds.