Katherine Heigl and Josh Kelley 'So Into' Parenthood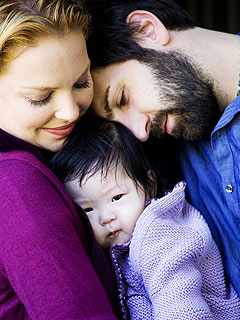 Cheyenne Ellis/AP
Many first-time parents suffer from indecision and second-guessing, but not Katherine Heigl and Josh Kelley!
In a new interview with PARADE, the Killers star says that the couple — who welcomed Naleigh, 18 months, last fall — are "so into it and confident as parents" that they've turned into a "cliché."
"We're the … typical couple who's talking about poopie diapers and stuff," she continues.
"We're always communicating about those more than we probably talk about anything else. I know we'll eventually chill out."
However Heigl, 31, is ever mindful that their gung-ho approach could someday backfire, musing, "it could all turn to crap when my daughter turns 13 or something."

Somewhat less confident is Heigl when it comes to her appearance on talk shows.
"I was on Letterman the other night, and I always choose a dress that's impossible to sit in," she explains.
"It looks great standing, but then you sit and you are like, 'Oh, my God. All my cellulite is showing.' So you have to sit like a statue. I keep forgetting the lesson I learned: just wear pants."