Kerri Walsh on Sundance's Speedy Arrival
Volleyball star — and new mom! — Kerri Walsh delivered her second son, Sundance Thomas, on May 19 in Torrance, Calif. Walsh, 31, talked to PEOPLE Moms & Babies about Sundance's early arrival, what elder son Joseph Michael, 1, thinks of his new little brother, her plans for the 2012 Olympics and shared a few baby photos!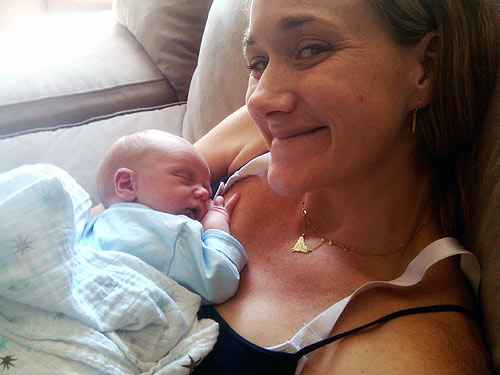 Courtesy Kerri Walsh
You weren't due until this coming weekend. Can you walk us through what happened last Wednesday? When did you realize the baby was really on his way?
I was due Sunday, May 30th, but they were going to induce me on Sunday, May 23rd because his tummy was measuring small — a few weeks behind. They were worried that he wasn't getting enough nourishment inside and wanted him out so he could feed well and often.
Turns out they didn't have to induce because Sundance had his own plans!
On Wednesday I started feeling so happy and excited. My mom had told me, "If you get a burst of energy, give me a call" because it may mean that the baby is coming soon.
At 3 p.m. I began getting some cramps that got stronger — but they weren't terrible. I started having real contractions around 7 p.m., and by that time my mom had arrived from Saratoga, Calif. By 8 p.m. my contractions were three minutes apart but still didn't become all that strong until close to 9 p.m. We got my stuff ready and called the doctor, but by then I knew I wouldn't make it [to Cedars-Sinai in Los Angeles]. I had waited too long.
Luckily we had a family friend who happens to be the woman in charge at the local hospital in Torrance, Calif. We headed to Little Company of Mary, arrived around 9:15 p.m. and Sundance came out at 9:59 p.m. It was unreal! Quite the adventure that night.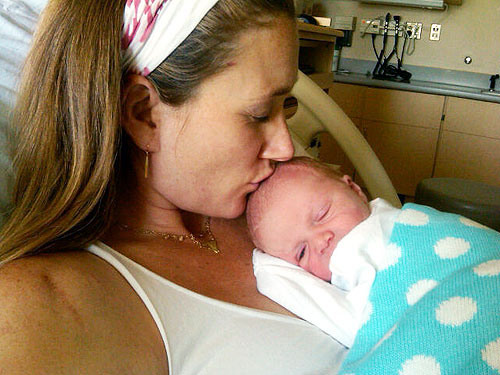 Courtesy Kerri Walsh
Your husband, Casey Jennings, is also a beach volleyball player. Unfortunately he was competing at the FIVB Grand Slam in Rome and missed the birth! Who did you have with you for support? Were you able to speak with Casey during labor or after you delivered Sundance?
I had my mom and my little sister KC with me — they were amazing coaches and helped me keep the drugs away. Joey spent the night with my dear friend Rachel.
It was really sad to not have Casey by my side throughout labor and delivery. He helped me so much through my first labor experience, so I was nervous about my partner not being there to help me get through no. 2.
So — aside from my wonderful mother and sister, who were awesome, and the fantastic nurses — I focused on Casey and what he would be telling me; he was very much present in my mind. It felt like he was there with me. It really did.
We were able to Skype with him about 20 minutes after the baby arrived.
You mentioned you delivered naturally – can you tell us about why that was important to you?
Yes, totally naturally like I did with Joey. I had wanted to try and see if I could do it the first time and I did — then with this one I just took for granted that I could do it again. As far as the rationale behind trying to go all natural … I wanted my sons to be born without drugs in their system — and the challenge [of delivering without an epidural] was a little part of it!
However, I have been so blessed to have such quick and easy deliveries both times … if things had been different I don't know that I would have been able to hold out!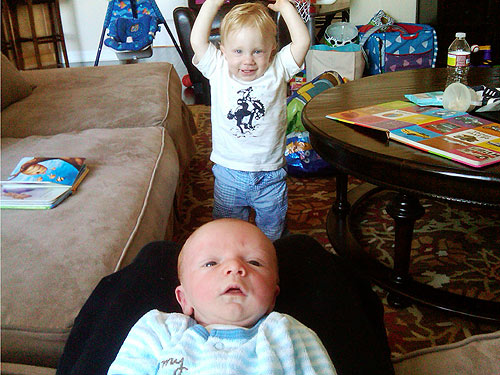 Courtesy Kerri Walsh
How did you and Casey choose the name Sundance Thomas for your new arrival?
Well, the first six months of my pregnancy he was going to be named Kelly — Kelly Thomas. But I loved the name a lot more than my husband did.
About a month ago, Casey threw Sundance out there in reference to Butch Cassidy and the Sundance Kid, a movie he grew up loving. I said, "I don't know if I can do that!"
Then Casey started telling me about so many beautiful memories he has running around with his brothers as children, and that's the relationship we want for Joey and his little brother.
When people ask why we named our son Sundance, he refers them to the introductory scene of the movie because that in a nutshell is why he loves the name so much.
As for me, I think it's an awesome name and the fact that it means so much to my husband makes me absolutely love it. Plus, they shot the movie in Grafton and St. George in Utah, and we have a lot of memories in that area as a couple ourselves.
We can call him Sunny and whatever other nicknames we come up with!
How did the first meeting between Sundance and Joey go?
It was kind of like a stare down — it was hilarious! They just looked at each other for about 30 seconds. Joey was pretty interested at first, then just went crazy exploring the hospital room. He's definitely excited and knows something's up. He already gives his little brother kisses, it's so sweet. Everything has been wonderful so far.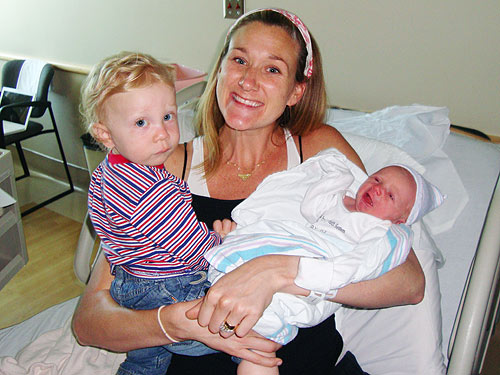 Courtesy Kerri Walsh
So Joey's first birthday was this past Saturday – did you celebrate or are you waiting until things aren't quite as crazy at your house?
We actually had his birthday party two weekends ago because Casey was still home. We had all our friends over and Joey dived into his cake! We're back home [from the hospital] now and are keeping things pretty mellow and low-key, just going to the park.
It's probably a lot to think about right now, but you're still planning to come back to volleyball and try to make the 2012 Olympic team with your partner Misty May-Treanor?
Absolutely! That's my goal. I hope to be back to the [U.S. AVP] tour by the end of August. That was the whole point of having my two babies back to back, to do it all together. Have the kids and get the traveling circus on the road! My ideal situation for 2012 would be to win a gold medal with Misty — both of us as moms.
For more on Kerri Walsh, visit her official Web site or follow her on Twitter.
— Sarah Michaud