Tom Cruise: 'Nothing Is More Important' Than Fatherhood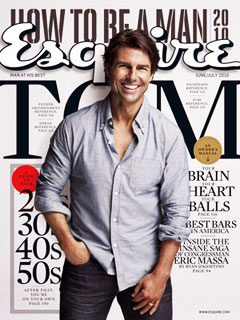 Courtesy Esquire
Having played several iconic characters throughout the years, Tom Cruise says he's realized there's only one role he cherishes most: Dad.
"I'll never forget the moment I became a dad," the actor, 47, tells Esquire in its June/July issue.
"It's hard to describe — that level of responsibility, the desire to give such joy," he says. "[And] the clarity: Nothing is more important than this."
Cruise, who has three kids — Isabella, 17, and Connor, 15, with ex-wife Nicole Kidman, and Suri, 4, with Katie Holmes — says he was instantly enamored when he laid eyes on his daughter.
"I remember that first night, just staring at Bella," he recalls. "I was checking her every second, just looking at her, feeling that immediate bond. I was probably looking at her so much that I was keeping her up."

When he became a parent, Cruise says he made a promise: "All I can do is the best I can," he tells the magazine. "But I'm not going to say I'm gonna do something and then not do it."
Now that his youngest daughter is at an age where she understands what her famous dad does for a living, Cruise says he likes getting Suri's input on scripts and doesn't mind bringing work back home.
"I'll start with the beginning of the movie and take her through the story beat by beat," he says, adding that he makes it age-appropriate. "She asks all the right questions: Why does that happen? Those are the bad guys? You're the good guy, right?"
Adds Cruise: "It comes down to the same thing as when I was a kid. Can I create a character that will make her happy, that will make her laugh? And you know what? She makes me get better and better because she's always asking me to do it again."
— Eunice Oh