Katherine Heigl: Baby Decisions Should Be Made By Mom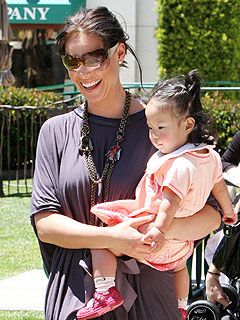 Mike/Fame
New mom Katherine Heigl isn't afraid to speak her mind when it comes to caring for her 18-month-old daughter Naleigh — even if it means confronting husband Josh Kelley!
"We actually sort of fight over [how we raise her]. It's ridiculous because I think it's a mother's job truly to decide these things," the actress joked during a playful appearance on the Late Show with David Letterman.
"I think he should just listen and do it. He got really mad at me for suggesting that the other day and I was like, 'But don't you get it? I know. I have an instinct, it's universally called a mother's instinct. So why are you arguing with me?'"

With the couple at odds with everything from their choices in diapers and wipes to how many grapes baby girl should eat, Heigl is the first to admit she's a "little bit of a control freak." That said, the Killers star knows her limit.
"[Josh] is really paranoid about her walking because he thinks everything is a danger and he's right, but at a certain point we just have to let it go," she explains.
Noting that "being parents is this whole new world," Heigl, 31, says the emotional toll of motherhood is one she never anticipated.
"What's unusual is the emotional change. Gradually I started to feel like, '[You're] wearing your heart now on the outside of your body for the rest of your life,'" she notes.
— Anya Leon