Julia Roberts: Kids Keep Me From Getting Grumpy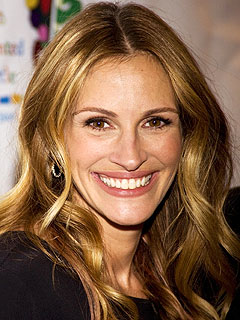 Tim Wagner/Zuma
Mom-of-three Julia Roberts says her early wake-up calls have gotten a whole lot sweeter since welcoming fraternal twins Hazel Patricia and Phinnaeus 'Finn' Walter, 5, and Henry Daniel, 2½.
"My favorite thing is just watching them wake up and watching them realize the day come upon them. It's fascinating to me," the actress said during an appearance on The Oprah Winfrey Show airing Monday.
"[Henry woke up the other morning and said], 'It's a beautiful day, Mama.' Which makes 5:30 [a.m.] a whole lot prettier,"
Raving that her children with husband Danny Moder "are really angelic and wondrous and so heavenly and kind and dear," the Eat, Pray, Love star continues to be amazed by their innocence.
"That's the thing about being new to the world, you're just so … impressed with everything," she notes. "The older you get, the grumpier you get."

And according to Roberts, who will celebrate her 43rd birthday this fall, she's doing her best to be as equally "present" as her kids.
"Don't they say that your brain starts to get mushy after 40? Along with your tush?" she jokes, revealing she has recently taken up a new hobby — sewing.
"This is my new skill to keep my brain firm," Roberts explains. "I made some big pillows for the kids and some really simple pants for Danny. So simple pants, people."
— Anya Leon