Niki Taylor: Teen Marriage, Motherhood Was 'A Lot On My Plate'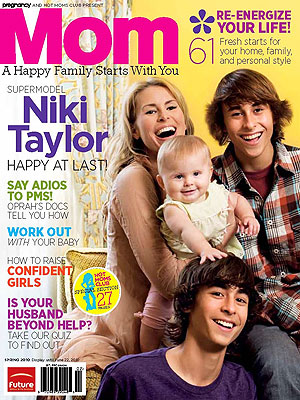 Courtesy Mom
Long before she became a parent, Niki Taylor had envisioned herself as a young mom.
However, when she welcomed twin boys into a failing marriage at age 19, the model found her life spiraling in a direction she didn't like.
"It was like, 'Who is this guy I married?' It was super hard because I did rush into it," Taylor, now 35, reveals in the spring issue of Mom.
"I was young, and I thought I was in love. So when the babies came, it was not something I signed up for."
"We were just two totally different people and after two totally different things. I was pregnant at 18, had [Jake and Hunter] at 19 and divorced by 21 … it was a lot on my plate for my young 20s!"

Now married to NASCAR driver Burney Lamar and having welcomed the couple's first child together — daughter Ciel, 14 months — Taylor's life has finally come full circle.
"I'm in love with my husband. It was a totally different situation with Jake and Hunter's [dad]," she admits. "So this is just a walk in the park!"
Noting similar qualities in herself and her 15-year-old sons, Taylor says the trio share many of the same interests. "We like the same music and movies and we think the same things are cool," she explains. "We just look at things kind of the same way."
And ever since Ciel joined Taylor's brood of boys, the mother-of-three jokes her style now includes some pink — but not too much!
"I get to do girl things and mommy-and-daughter things. I have a lot more pink in my house now," she says.
"People still ask me if she's a boy or a girl because I won't put her in pink. [Ciel] wears a lot more grays and neutral colors. I guess I get to be kind of like a girly-girl and dress her up and be a tomboy at the same time."
Although she declares herself a hands-on mom who is more than willing to get "dirty … and rough with the kids," there is one aspect of parenthood Taylor will be taking a backseat to — literally!
"Yes, Burney will be teaching them [how to drive], because it won't be good coming from me. They've already told me I'm not a very good teacher," she laughs. "Burney's a totally different driver in a car off the track, so he'll be a better instructor."
— Anya Leon