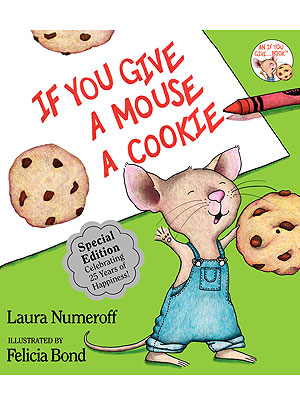 Courtesy of Harper Collins
It's been 25 years since If You Give a Mouse a Cookie was first published, and the endearing story about a bossy mouse and a very patient little boy is still as popular as ever.
It also launched the well-known If You Give… book series, which has sold over 16 million copies combined to date.
To celebrate this special anniversary, Harper Collins, got milk? and PEOPLE have teamed up for a super fun event.
On May 22, they are hosting a reading and book signing with author Laura Numeroff at Anderson's Bookshop (123 West Jefferson in Naperville, IL) from 11 a.m. to 1 p.m.
If you're in the area, make sure to stop by for fun activities, free samples and a special gift bag while supplies last.
Don't live in the Chicago metro area? We're giving away autographed copies of the book that started it all to the first 25 Moms & Babies readers who email us at giveaway@peoplemag.com.
Hurry up and enter for your chance to win! Plus, check out our exclusive chat with the author and the giveaway rules below.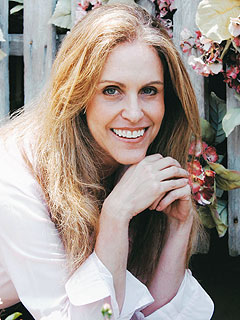 Courtesy of Harper Collins
How does it feel? It's been 25 years and If You Give Your Mouse a Cookie is still a very popular book.
Considering I wrote it when I was four, it's great. No, really, it's amazing. It's startling, but it's also a dream come true. I've always wanted to be a children's author. While I was growing up, I idolized E.B. White, Marguerite Henry and Beverly Cleary. And now to get mentioned in that company, it's very surreal.
Also, my audience used to be five and now I look up and they're 27 telling me how they grew up on my book.
Why do you think so many readers (young and old) find this story so endearing?
The mouse reminds everybody of a little something in themselves and how easy it is to get distracted. When you open the fridge to get a drink, you remember that you need to clean the refrigerator so you need cleanser and then you look around realize you need something else, so then you have to go to the store. It can be an endless cycle.
I also think the way the mouse is illustrated makes people love him. He's so peppy.
I read on your website that you're a big pet lover and that you've owned several animals over the years. Has that influenced the characters of your books?
Right now, I only have a cat named Cooper. Before, I had sister cats that were black and white and looked like nuns. And I had a dog named Sydney, who is no longer with us.
I grew up in Brooklyn in my grandmother's house and there were five of us so there wasn't a lot of space. But I always loved animals. When I was 13, I put posters up in the neighborhood to get jobs walking dogs. And when I was little, I had a little black and white guide to the different dog breeds and I would memorize the names and a little bit about the dog. I stop to pet people's dogs all the time and people are always amazed at my knowledge of obscure breeds.
Are you involved in other projects?
I am involved with an amazing non-profit called First Book, which donates brand-new books to children who have none. They just donated their 65th millionth book. To help out, I donate a portion of my royalties from the If You Give… series to them. And I participate in a lot of their fundraisers and events.
A lot of children don't realize that there are kids out there who don't have any books. When I talk at events, I always ask the children how many of them have books and almost all raise their hands. And then I ask, "Can you imagine not having any books?" to drive the point home.
I also work with First Book to help promote the message of reading to your children. Obviously, I'm a big proponent of doing this. And, you can never start too soon. Reading to kids as young as 6 months old really makes a difference and it's a great way to establish a routine.
You dedicated this book to your parents and I noticed that you credit them with your love of reading.
My parents were voracious readers and we had an entire wall in our living room filled with books. And my dad would take us on weekly trips to the Brooklyn Public Library, which is huge. And I'm very lucky that they supported me in my dream of becoming a writer. A lot of people don't realize that If You Give a Mouse a Cookie was turned down nine times before it was published. So my motto is never give up.
Giveaway Rules:
(No Purchase Necessary to register and or participate in this program. Program begins at 2:01 p.m. ET on 5/21/2009 and ends at 1:59 p.m. ET on 5/22/2009 or until the number of items to be awarded has been reached. All entrants must be legal U.S. residents age 19 or older at the time of entry. Limited time offers. Limited to one entry per email account per day. This promotion is sponsored by PEOPLE magazine, a division of Time Inc., 1271 Avenue of the Americas, New York, New York 10020. Sponsor(s) not responsible for any damage to computer equipment related to participating in this program. Winner(s) may be required to complete an affidavit of eligibility or waiver of liability before any items can be awarded or claimed. Employees of Time Inc. are not eligible to enter or win. Void where prohibited by law.)