Padma Lakshmi: Krishna Is a 'Delight in Every Way'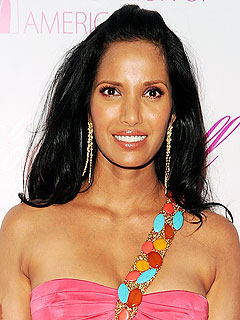 Andrew H. Walker/Getty
As a new mother to 3-month-old daughter Krishna Thea, Padma Lakshmi relishes in the simplicities of motherhood.
"I love to rock her to sleep, just to nurse her and hold her," Lakshmi told Moms & Babies Thursday at the Endometriosis Foundation of America's second annual Blossom Ball at the New York Public Library.
"She's a delight in every way and everything is better with her around."
The Top Chef host and co-founder of the foundation certainly has reason to be delighted.
While Lakshmi, 39, suffered for years from endometriosis, the proud mother is "eager to see" her baby girl's "quirks and idiosyncrasies."
"Her personality is bubbling forth,' says a smiling Lakshmi. "I think we all egotistically say she has the eyes of this person or the humor of that person. I'm sure that's true but when I look at Krishna, I think of her. I don't see other people."
— Jaimie Vaillancourt