Marcia Cross Likens Daughters to 'Yin and Yang'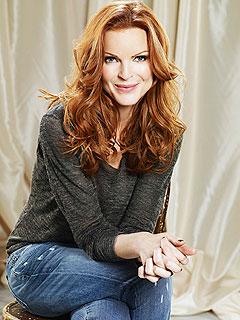 Florian Schneider/ABC
Desperate Housewives star Marcia Cross isn't shy about her love for twin daughters Eden and Savannah, 3.
And she shouldn't be: After a long fertility struggle, the actress and husband Tom Mahoney are savoring every precious moment with their girls — two favorites here at Moms & Babies!
Marcia recently took some time to chat with us about her daughters' distinctive personalities, their daily routines (they're in preschool now!) and Tom's battle with cancer.
How are the twins?
They're fantastic! They're 3 years old now, and I joke that they're going off to college. They're such a joy.
Now that they're 3 years old, are their distinct personalities shining through?
They've had their own personalities right from the get-go. It's wonderful to watch them flower, and watch them to become more expressive, more distinct. It's heaven.
What is watching that bond like, from your perspective as mom?
People used to ask me, 'Do they have their own special language?' They don't. But they remind me of a yin and a yang, with how opposite they are … and they fit together so well. They complement each other, but yet they're so different.
I have my fantasies about how that'll play out through their lives as they get older. Maybe one will be more social, one more reserved, maybe one will ground the other. They just balance each other, and I look forward to seeing that continue.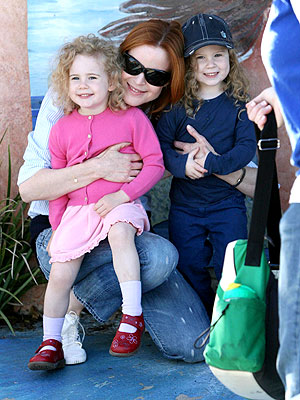 Flynet
Do they ever visit you on set?
They do. Less and less this year, since they were in preschool. They have their own lives now!  So if I had an easy day of shooting, or an extra-long day the day before, I'd have them come. But most of the time they have school.
They love school, and they love their classmates, too. They go to a quiet, beautiful little school where they're thriving.
Do they understand that you're a television actress?
I don't think they really do quite yet. They don't watch a lot of television. They see Dora the Explorer or Little Bear, so they haven't really watched humans, except for maybe Mary Poppins.
They aren't TV and movie kids yet, so they haven't put it together, even though they say 'Mommy's an actress.' I could probably sit down and show them, but we're getting closer to that point. It's just not quite time yet.
Instead of TV, we always have music on. Once in a while they'll watch something in the morning, but I'm very choosy, and it's all TiVo'd. I don't like to let the TV just run, because of commercials. Maybe I'm a little overprotective in that way, but I don't like the idea of exposing them to advertisers.
How did you celebrate Mother's Day?
Well Tom served me breakfast in bed, but it went to the girls — I put the tray on the floor and they went to town on the French toast! We stayed in and played, and then they went to the park for 30 minutes, so I took a nap. It was amazing!
The girls made me cards — one of them actually made me go to the mailbox, because she put hers in there. I love when they do things like that!
I wake up on Mother's Day and am just so happy to be a mother. I went through so many Mother's Days where I was so sad about not having kids. Don't get me wrong — I love my mother! — but I wanted kids. Now, I'm overjoyed.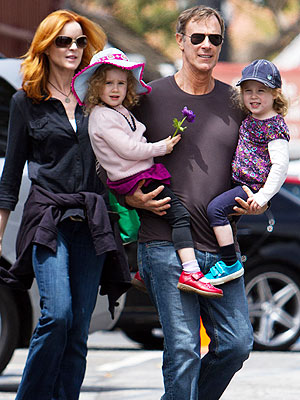 GSI Media
How is Tom as a dad?
He is a phenomenal father. Absolutely phenomenal. The girls are madly in love with him, and I don't blame them, because I am too!
He's all the things that I love. He's strong, loving, kind and he teaches them, plays with them.
He has the incredible ability to just focus and just play, and not be distracted. He's a wonderful father.
We know he was battling cancer last year; how is he doing now?
Tom is 100 percent fantastic. He's perfect! We got that situation behind us, and life is great. He's back to his old self.
He finished [treatment] just about a year ago. That nightmare is over, but that doesn't mean we don't have to always keep an eye on it and on him.
Does your family have any summer plans?
We'll probably go back east to vacation with my family, maybe somewhere in Maine. Then we'll visit local places in California. I only have June off; I go back to work July 15.
You're teaming with Mott's again this year, so we have to ask, how do you feed your family healthfully?
I give Mott's Medleys Juice to my girls. It's an easy way to get them some nutrients without spelling it all out for them. I do that often with juices or smoothies. One of my daughters likes food in general, but the other really just wants her pasta or deli sandwich! So you have to be creative and do the mom thing, and sneak in what you want them to get in their bodies. That's why these juices are fantastic.
Mott's has teamed with KaBOOM!, an organization dedicated to building playgrounds, and they're committed to building 10 fantastic new playgrounds together across the U .S. this year. As I started working with them, I learned that statistically, 60 percent of kids are not within walking distance of a playground, and that number moves up to 70 percent in inner cities. Here we are living in a time where obesity is an issue and sedentary lifestyles are the norm, so we've got to have play.
Is KaBOOM!'s mission important to your family?
Eden and Savannah love the backyard, but the park is more fun! It's more of a whole world for them. They can play in the sandbox, though now they're on to bigger structures. It's their universe. Kids really need that. You can't have them just sitting and watching TV. They have to go out and play.
— Kate Hogan with reporting by Suzanne Zuckerman