Caught Caring: Celebrity Moms Get 'Bundled In Hope'
A new baby blanket can symbolize so much for an expectant mom, but for those who live at or below the poverty level it means one thing, and one thing only.
"Children born into poverty often face a higher level of stress" than those born to more affluent families, according to Early Childhood Advisor Judith Jerald, who adds that research and experience have shown that a favorite blanket can be a soothing and comforting transitional object.
Bundled in Hope — a joint effort of Toys 'R' Us and Save the Children — is poised to help.
In just its second year, the campaign is already well on its way to surpassing the success it enjoyed in 2009, when it raised more than $1 million. Celebrity moms like Constance Marie, Joely Fisher, Idina Menzel and Kelly Rutherford are doing their part, designing one-of-a-kind baby blankets which are being sold at auction.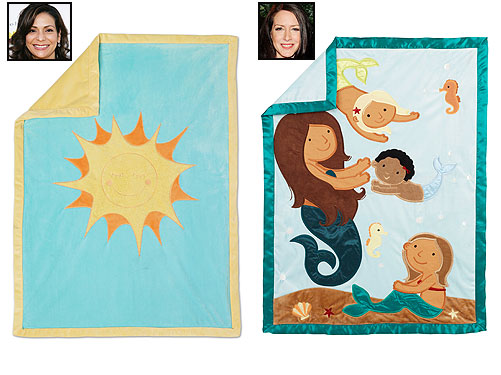 Blankets designed by Constance Marie and Joely Fisher for Bundled in Hope
Marie tells Moms & Babies that "no baby should ever be without what they need, especially a blanket." The actress (and our new blogger!) notes that swaddling was instrumental in helping 15-month-old daughter Luna Marie get a good night's sleep. "I realized a blanket is so important," Marie says. "It is such a source of comfort, and warmth."
"Children are our future, and it is our responsibility as adults to provide for them," she continues. "End of story!"
Designing her sun-themed blanket was a labor of love for Marie, who says she enjoys watching Luna Marie say hello and goodbye to the sun each and every day. "Motherhood has made me more philanthropic because I want the world to be a better place for my child, and anyone's child to grow up in," she explains.
For Fisher — mom to Skylar Grace, 9, True Harlow, 4, and Olivia Luna, 20 months — helping is viewed as an investment. "This particular campaign excited me because it's dealing directly with the babies of our nation and children who are underserved," she explains. "They are our future."
Fisher's mother Connie Stevens earns much of the credit for the 'Til Death star's enthusiasm for giving back, something she says was reinforced by becoming a mom, herself. "My goal is keeping the big blue ball turning for the next generation," Fisher shares.
Each of the 10 celebrity-designed baby blankets will be auctioned off between now and July.
There are plenty of other ways to help, however. Expectant moms can add "Save the Children" to any baby registry, allowing family and friends to make a donation in their name, or you can donate directly by clicking here.