Salma Hayek Pinault: Valentina Requested Name Change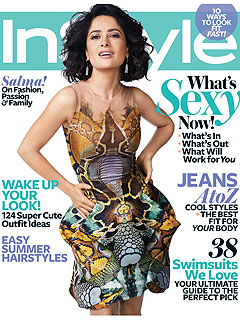 Courtesy InStyle
When Salma Hayek tied the knot with François-Henri Pinault last year, taking her husband's surname didn't cross her mind. That is, until the couple's 2½-year-old daughter Valentina Paloma noticed the difference!
"It was Valentina's request," Hayek Pinault reveals in InStyle's June issue.
While visiting with the actress on a movie set, the inquisitive toddler noticed the name written on the back of her mother's chair — and was quick to question what she saw.
"She said, 'What does it say there?' And I said, 'Salma Hayek,'" Hayek Pinault recalls.
"And she said, 'What about Pinault? Why not Pinault?' Because here [in France] people say, 'Madame Pinault.'"

Typically a "private person," Hayek Pinault, 43, felt the sudden urge to share her newfound love with the world and happily took her daughter's wise words to heart.
"I said to myself, 'This is who I am now. I'm starting a whole new life. Why shouldn't I share it with the people who have been supporting me my whole career, who have been with me since the beginning?'" she notes. "I should let them in on the fact that I'm a different person, and a better person."
— Anya Leon