Kimora Lee Simmons Loves Children's Chaos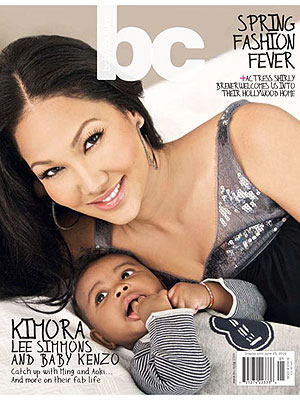 Courtesy BabyCouture
With the birth of her third child last year, Kimora Lee Simmons celebrated her return from retirement — at least in the world of infants!
While she insists her "instincts" are as strong as ever, she admits welcoming son Kenzo — who turns 1 this month — into the mix has only added to the experience.
"I've grown as a person, so some things are different," she reveals of her return to the baby days in the latest issue of Baby Couture.
"Having a son was a twist, but of course I'm happy and loving it."

Now juggling her three young kids — including daughters Ming, 10, and Aoki, 7½ — and her Baby Phat fashion lines, the Kimora: Life in the Fab Lane star is quickly finding out that quiet time is a thing of the past!
However, the chaos of each day is one that Simmons embraces with open arms.
"My days are full, that's for sure," she says. "But they're filled with love and passion — my family and my work. My schedule is frequently hectic, but it's always fulfilling."
As for Ming and Aoki adapting to Kenzo, Simmons, 35, reveals the transition couldn't have gone any smoother.
"They're very nurturing and have been gung-ho about welcoming Kenzo to our family," she raves. "They're very protective and love to watch him explore and discover the world."
— Anya Leon