Spotted: Russell Crowe and Tennyson Peace Out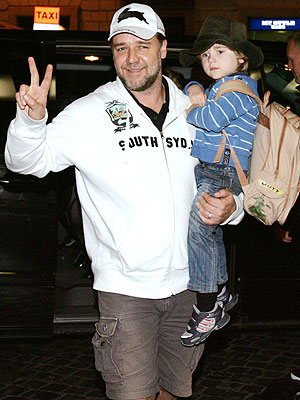 PH. MAX/Startraks
Russell Crowe flashes the peace sign as he touches down with son Tennyson, 3½, on Thursday in Rome.
The actor is in Italy with wife Danielle Spencer, Tennyson and elder son Charles, 6, as he promotes his latest film, Robin Hood.
The boys saw the movie, but weren't that impressed, Crowe, 46, joked recently.
"[Tennyson] is going, 'Dad? Dad? When are you going to get a horse?'" laughed Crowe.
"When I got the horse, he goes, 'Dad, you got the horse, can we go now?'"
RELATED: Family Photo: Russell Crowe Receives a Star!